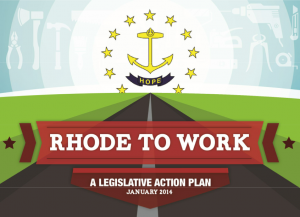 In an effort to address Rhode Island's unemployment rate, Senate leadership has announced a new workforce development plan, "Rhode to Work", designed to address the skills gap. The skills gap is a labor market theory that posits that employers have job openings they can't fill due to a lack of qualified applicants. This often goes hand-in-hand with rhetoric about building "tomorrow's workforce" and our need to be competitive in the global economy.
There's just one niggling little problem: there's virtually no evidence that such a skills gap actually exists. Certainly not in Rhode Island, where six out of 10 of summer 2012's job vacancies had either no education requirement or only a high school diploma or G.E.D.
I've talked about this before; specifically, UWM researcher Mark Price's work debunking the skills gap in Milwaukee. Currently, for every 2 U.S. students who graduate with a science, technology, engineering, and mathematics (STEM) degree, only 1 gets a job; usually they cite that either they couldn't find one or they could earn more in another industry. An article in the Institute of Electrical and Electronics Engineers' Spectrum showed there were 11.4 million STEM-degree-holding workers employed in non-STEM fields in comparison to 277,000 STEM vacancies. Professor Peter Cappelli of the Wharton School's Center for Human Resources concludes that there multiple issues at fault: refusal by employers to hire entry-level applicants, refusal by employers to provide on-the-job-training, overcomplicated job requirements, software that screens out potentially great matches for. For anecdotal evidence tied with data, there's the manufacturing CEO who told New York Times writer Adam Davidson that he didn't like workers with union experience and paid less than work in the fast food sector – not uncommon; Davidson says the Bureau of Labor Statistics' data shows that skilled jobs have fallen off and their wages have fallen as well.
Perhaps you've noticed a trend there. Virtually all of the hiring issues are on the employer-side of the equation, not the applicant-side. That's pretty much what a study from Illinois found. The researchers there suggest that there are four main reasons for advocating for the existence of a skills gap: it scapegoats job-seekers rather than business, it could be caused by employers parroting other employers in their sector from low-unemployment states, it increases the labor supply driving down wages, and it transfers the costs of training onto the state and off of the employer's books.
"Rhode to Work" offers virtually no evidence of an existence a genuine skills gap. Instead, it cites this article from WPRI that used only two anecdotal pieces of evidence from employers, and never once offered data that concurred with their conclusions. Similarly, this article from The Providence Journal's John Kostrzewa made the rounds a few weeks ago, offering only employer-anecdotal evidence. Responding to that article, the far-right Current/Anchor's Justin Katz reached pretty much the same conclusion as the above study (once you get past the moralizing); this is an attempt to socialize job training costs.
Let's pause and say that job training isn't bad. It's perfectly fine for workers to be retrained or to learn new skills. It's just that we need to make a couple things clear. First, job-training should be paid for by employers, who will benefit from it. And second, it is not a cure for Rhode Island's unemployment issues. Once again, ostriches.
Rhetorically though, "Rhode to Work" (despite the tiresome wordplay) is a perfectly fine piece of politics. It's hard to be against it unless you want to be seen advocating for keeping people ignorant (because that's basically what the "skills gap" talk posits: Rhode Islanders are too stupid to do the work that's available). And it's an easy rallying point for supporters of dismantling the public education system; the exact same rhetoric is used, that creepy "building the workforce of tomorrow" language that's supposed to inspire us to have our kids buckle down real hard for the tests that will decide their future. Also, it mainly focuses on a future workforce, rather than the one we've got (you know, the one in need of help). It's good politics to focus economic policies on the future workforce, because it means during future boom times you can take credit for that success.
That refusal to deal with the problem at hand a real shame, because as we've previously pointed out, very few of Rhode Island's policies are actually targeted at Rhode Islanders who actually need assistance. Maybe we can look to the House for better solutions. But I wouldn't hold your breath.
'Rhode to Work' plan is decent politics but bad policy

,