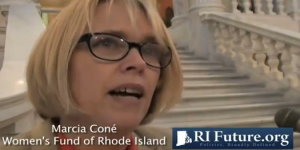 At the legislative launch for the Rhode Island Coalition for Reproductive Freedom, Marcia Coné, executive director of the Women's Fund of Rhode Island, talks about the need for a bold legislative agenda to ensure the economic security of women.
"The Rhode Island Reproductive Justice Coalition is committed to addressing  inequality for four lenses: conscious and faith based principles, medical, legal and economic security," she said.
You can see Marcia Coné's full talk here.
And learn more on reproductive justice, from:
Women's Fund's Marcia Coné on Reproductive Justice

,