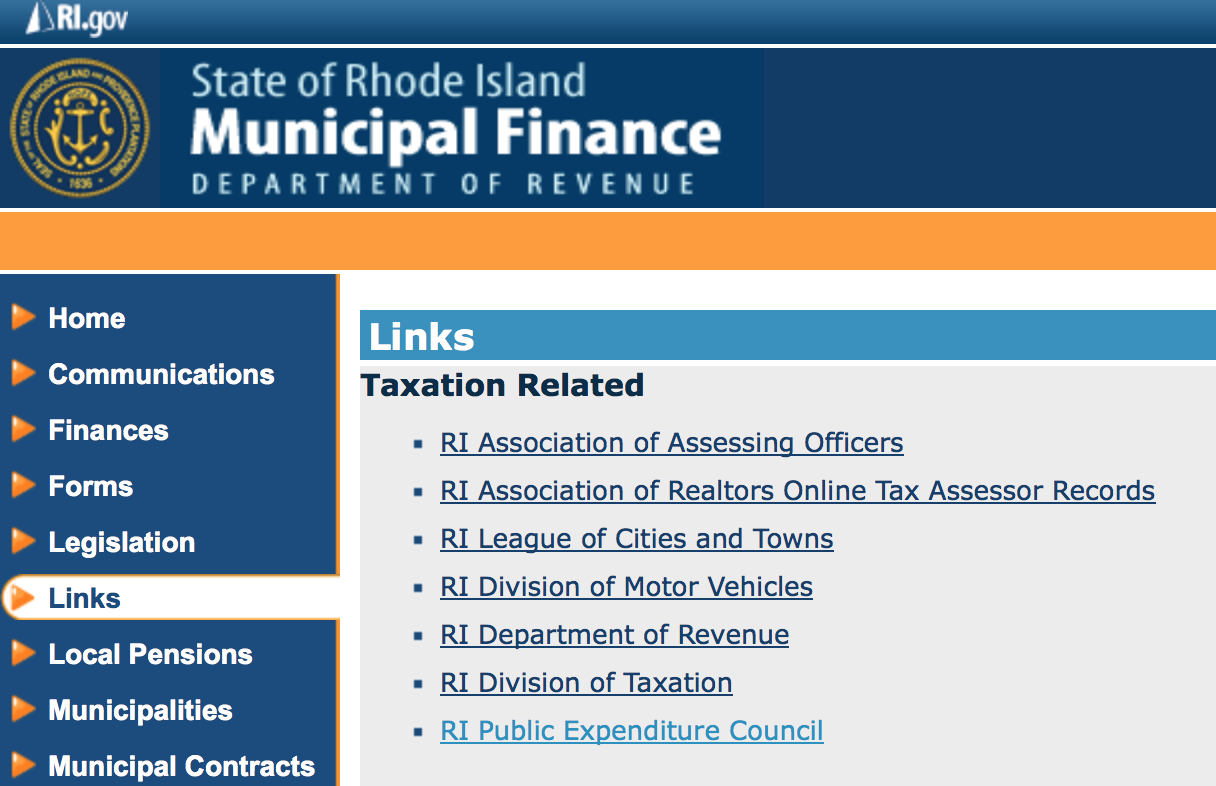 Here's a revealing nugget about how conservatives win the policy debates in our state:  If you spend a lot of time trying to understand the Dickensian world of city and town budgets, like I do, you're going to wind up spending a lot of time on the Department of Revenue's municipal finance website.  They provide quite a few useful resources, but as a helpful hint, they also provide links to other resources.  One of them is the Rhode Island Public Expenditure Council–our state's most powerful corporate lobby.*
Commonly abbreviated as RIPEC, it's a coalition of some of the largest and most important businesses in the state, and they take a rather extreme right-wing position in their State House lobbying.  And the conservatives who run Smith Hill take their word as holy writ.  Last year, when they proposed abolishing the Department of Environmental Management and moving its functions to the new Department of Commerce, Gordon Fox and House leadership actually tried to do it.  (Fortunately, they didn't succeed.)
There are two explanations for why the Department of Revenue decided to provide free advertising for RIPEC.  One is that they're hardcore RIPEC partisans.  But I don't think that's what happened.  Instead, I suspect that the culture of reverence for RIPEC is so strong on Smith Hill that no one thought it would be wrong to link to their website.
Sometimes we talk about the state government as if it's entirely composed of right-wingers who are basically Republicans.  Although there certainly are many hardcore conservatives, many legislators and bureaucrats would better be described as centrists who vote with the conservatives on economic issues because the center of discourse in this state is so far right.  Although really a fairly fringe group, RIPEC has become so mainstream no one sees a problem with the government openly promoting them.
After all, when Senate leadership needed a white paper to make a show of doing something about jobs, they contracted it out to RIPEC.  Naturally, what we got was a report harping on business tax climate indices, which are basically bogus statistics conservatives invented to help push for tax cuts for the rich.
*I suppose it isn't quite fair to call RIPEC a corporate lobby.  Many of their initiatives seriously damage Rhode Island businesses.  Their signature initiative, cutting taxes for the rich and paying for it by gutting aid to cities and towns, was pretty tough on businesses, since cities had to raise commercial property taxes to make up for the lost state aid.  It would probably be more accurate to say they lobby for the interests of the executives of the state's largest businesses. Here's how RIPEC describes itself.
Department of Revenue website links to corporate lobby group

,