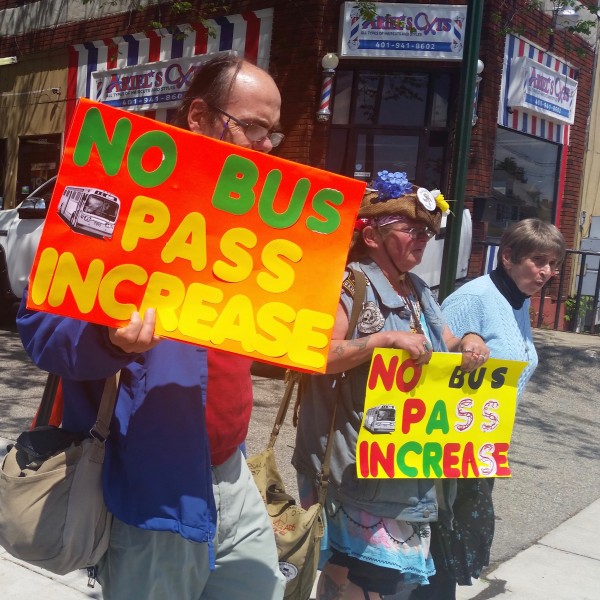 Some of Rhode Island's most vulnerable people were dealt a serious blow in the recently released House budget. Disabled and senior Rhode Islanders are going to be hit with a bus fare hike now expected to start in January.
Hundreds of seniors and disabled people have given moving testimony over the past year about how they can't afford this bus fare hike on their limited income and will be stuck inside their residences, rarely able to go out. Advocates had called for the House budget to include money to prevent the fare hike. RIPTA Riders Alliance is disappointed that the House budget did not do this.
All the budget does is to reschedule the fare hike — RIPTA had wanted this fare hike to start this July 1, and the House budget provides only enough funding to postpone the fare hike by six months (to January 2017), according to the Providence Journal and legislative leaders. This fare hike will be devastating to Rhode Island's most vulnerable seniors and disabled people who rely on public transit. It would be a travesty for the General Assembly to go home on vacation without addressing this problem, leaving the fare hike to take effect at the beginning of next year.
These low-income seniors and disabled people will be left in further isolation, and isolation increases feelings of depression and other medical problems. In many cases they will have to cut back on shopping trips, volunteer work, and visiting friends and family, or squeeze money elsewhere in their fixed-income budget.
This fare increase on the most vulnerable has already roused considerable opposition from the wider public, and the General Assembly cannot shirk its responsibility here. Only about $800,000 more in the budget was needed to prevent this harmful fare increase from taking effect, and the General Assembly should pass the bills (H7937 and S2685) which cancel this fare increase, as Rhode Islanders want.
[From a press release]
House budget raises bus fares on most vulnerable in six months

,