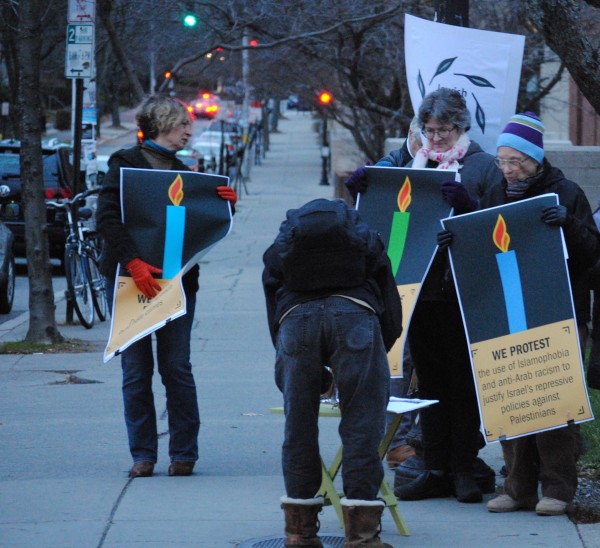 In February 2016, Representative Mia Ackerman introduced a bill H7736 "An Act Relating to Anti-Discrimination in State Contracts." On its surface, this legislation seems to be an attempt to prevent the State of Rhode Island from entering into contracts with businesses that engage in discrimination based on "race, color, religion, gender, or nationality" —a position that appears respectable and moral.
But in reality, it is eminently clear that this bill is an effort to thwart the legitimate and constitutional rights of individuals and private companies to use the historic, legal, and non-violent practice of boycotts. There is a growing movement of conscience to use boycotts as a peaceful strategy against the human rights violations imposed by Israel against the Palestinian people. This House Bill as proposed would itself discriminate against those have taken a principled stance for justice and international principles of human rights. The negative chilling effect this legislation would have on the free and just expression of conscience runs counter to the very spirit, practice and legacy of the State of Rhode Island and its founder Roger Williams.
Boycotts have long played a significant role in U.S. history as evidenced prominently by the civil-rights movement and the anti-apartheid South African divestment movement. The Supreme Court itself has ruled that boycotts "to effect political, social, and economic change" are protected by the First Amendment of the Constitution. There is a growing movement to use boycotts as a strategy against the human rights violations imposed by Israel against Palestinians in Israel and the occupied Palestine territories.
Detractors claim that calls for the "Boycott, Divestment and Sanctions" (BDS) of companies that are involved in human-rights violations in Israel and the occupied West Bank are anti-Semitic and aimed at bringing about the eradication of Israel. BDS is not a challenge to Judaism or Jewish people, it is a non-violent tactic targeting Israeli policy of occupation of the West Bank and Gaza; thousands of Jewish citizens in the United States support BDS. Importantly, the BDS movement does not target individuals based on their Israeli nationality; it targets Israeli institutions and other companies doing business in Israel and within the illegal West Bank settlements—strictly because of their complicity in human-rights violations. Such calls for boycott are based on deep concerns for human dignity, human rights and international law and are indeed intended to effect peaceful and positive "social and political change."
As the Rhode Island chapter of the national organization Jewish Voice for Peace, we strongly oppose this bill in our state house. Jewish Voice for Peace membership includes both Jewish and allied members that are inspired by Jewish tradition to work together for peace, social justice, and human rights.
As an organization of Jews and allied friends, Jewish Voice for Peace Rhode Island supports BDS as a non-violent and legal means to apply economic and political pressure on the Israeli government to end the unjust system of occupation and to comply with international law, giving due rights to Palestinians and to Arab citizens of Israel. We believe that these tactics need to be protected from attempts to curtail them through legislative measures like H7736 and strongly urge House Speaker Mattiello and other members of the legislature to prevent passage of this bill.
Protecting freedom to boycott oppression

,