The Senate Judiciary Committee held for further study a bill that would give Burrillville residents a role in determining the tax rate a proposed power plant would pay to the town. The committee took six hours of testimony, before and after the full Senate session. About 50 people spoke, about two-thirds of who oppose the power plant and support the legislation that would give town residents veto power over a tax treaty.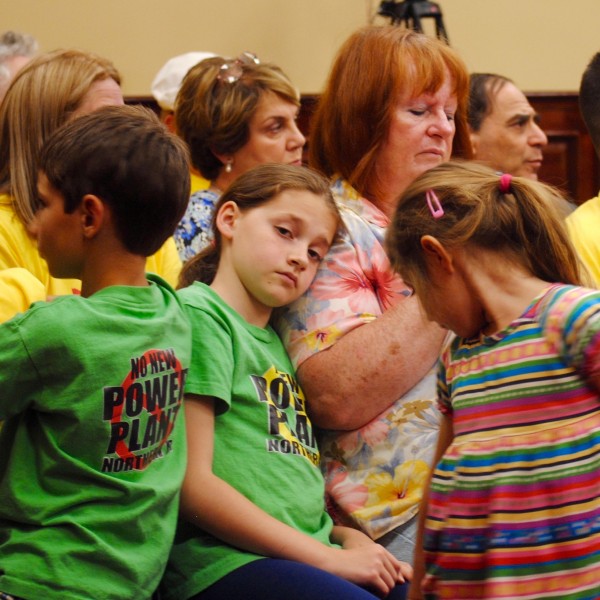 Senator Harold Metts motioned to hold the bill for further study and Chairman Michael McCaffrey seconded. No senator voted against holding the bill for further study. It passed the House the day before 64 to 7.
Earlier in the week, Senate President Teresa Paiva Weed declined to comment on the bill to a gaggle of reporters. Senate Majority Leader Dominic Ruggerio sat in on the session as an ex oficio member. Last week he told RI Future he did not support the bill and does support the power plant.
"I'm afraid this bill could have very bad repercussions and effects," Ruggerio said. "I'm concerned about our energy needs in the Northeast."
At yesterday's hearing, senators Stephen Archambault, Donna Nesselbush and Frank Lomardi spoke out adamantly against the bill.
"From our side as state legislators, to them thwart every local government process where hopefully you would have good people elected who would listen to you," Nesselbush told a Burrillville resident who had just finished explaining that the town council has not been listening to the residents. "I am loath to change a statewide approach because perhaps one town councilor is not doing his or her job. Your local government is supposed to represent you."
Archambault said residents should not have a say over the tax treaty between the town and the corporation. "The town council, at large, has been elected and is in a position to best negotiate tax treaties."
Burrillville residents say the bill is necessary because they can't trust their town council to negotiate in good faith. The legislation would add a town vote on any tax treaty the council negotiates with a power plant corporation. It would increase membership on the state Energy Facilities Siting Board from 3 to 7, one of whom would be a representative of the state Water Resources Board. This is important to Burrillville residents because the proposed power plant would be cooled with polluted water that the corporation says it can filter.
Senate committee tables Burrillville bill

,