Mirror, mirror on the wall, who's the most popular politician of them all? According to a new Taubman Center poll, it's Senator Jack Reed followed by Providence Mayor Angel Taveras.
Reed and Taveras are the only two elected officials who more than 50 percent of respondents said were doing either an excellent or good job. On the other end of the spectrum, Congressman David Cicilline and Governor Linc Chafee were the least popular pols asked about. A whopping 73.5 percent of respondents said Chafee was doing an only fair or poor job and 58.2 percent said Cicilline was doing only fair or poor.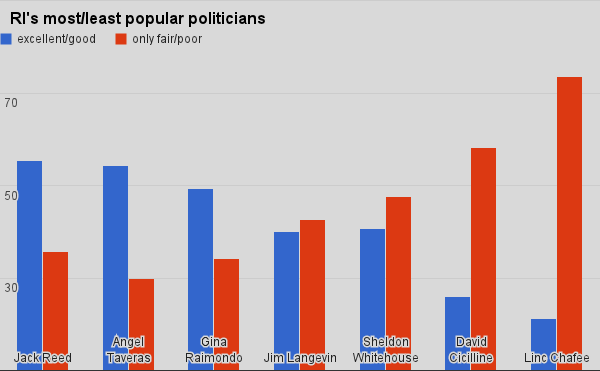 General Treasurer Gina Raimondo was more popular than she was unpopular with 49.3 percent of respondents saying she was doing an excellent or good job and 34.2 percent saying she was doing only fair or poor. Senator Sheldon Whitehouse and Congressman Jim Langevin were both more unpopular than they were popular.
Here's how the congressional delegation stacked up against each other:
And here's what it looks like to compare Angel Taveras, Gina Raimondo and Linc Chafee: