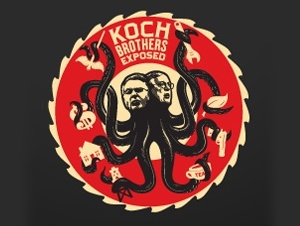 It's not hyperbole to say the Koch brothers and the tea party are systematically working together to defund the American government. According to an article in the New York Times, that's exactly how the government shutdown happened: wealthy Republicans, well-financed Super PACS and stink tank leaders got together with tea party members and planned it out at the beginning of President Obama's second term in office.
"I think people realized that with the imminent beginning of Obamacare, that this was a critical time to make every effort to stop something," former Ronald Reagan staffer and friend Edwin Meese told the New York Times.
According to the very insightful Times article:
Groups like Tea Party Patriots, Americans for Prosperity and FreedomWorks are all immersed in the fight, as is Club for Growth, a business-backed nonprofit organization. Some, like Generation Opportunity and Young Americans for Liberty, both aimed at young adults, are upstarts. Heritage Action is new, too, founded in 2010 to advance the policy prescriptions of its sister group, the Heritage Foundation.

The billionaire Koch brothers, Charles and David, have been deeply involved with financing the overall effort. A group linked to the Kochs, Freedom Partners Chamber of Commerce, disbursed more than $200 million last year to nonprofit organizations involved in the fight. Included was $5 million to Generation Opportunity, which created a buzz last month with an Internet advertisement showing a menacing Uncle Sam figure popping up between a woman's legs during a gynecological exam.
The Times even dug up a a Defunding Obamacare Toolkit that was put together for astroturfing (astroturfing is when in politics something appears to be a grassroots effort but it is really being funded and formulated by powerful political players).
It seems Justin Katz got some material from the toolkit for our appearance on 10 News Conference this weekend. I asked him if we both agreed that everyone should have insurance and he replied that everyone should have health care (3:00) but not necessarily insurance. Here that is, right on page 11 of the toolkit, right under "Suggested Responses to Congressional Offices & Members of the Press about Defunding Obamacare."
How the Koch brothers planned and parsed the shutdown

,