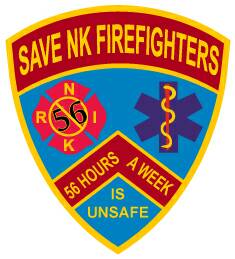 The town of North Kingstown has already spent $450,263 in legal fees trying to force 24 hour shifts upon its fire fighters, according to documents shared today by Town Manager Mike Embury. A court has ruled against the new shifts, but the town is appealing that decision and trying to remove a Carcieri appointed judge for being biased.
"The issues are very involved and important," Embury said in an email. "The unions from around the state are watching this closely."
According to the document from Embury, the town spent $200,927.79 in 2013: $84,674.83 was for work on contract arbitration; $29,932.40 for "declaratory judgment work"; and $18,696 for unfair labor practices. In 2012, the town spent $155,641.232 on legal fees concerning the 24-hour fire fighter shift. Embury said the town has already spent $93,694.24 for 2014.
All but $277 of the half million dollar sum, which went to the American Association of Arbiters, was paid to legendary anti-organized labor lawyer Dan Kinder and his firm. Kinder famously made millions defending pay cuts in the East Providence school district. Kinder won that case, but labor responded by supporting a reform slate for the school committee, which beat the group that supported the cuts.
Look for labor to focus on local elections in North Kingstown in 2014 in a similar style.
Embury noted that it was much easier to win concessions from the local police union.