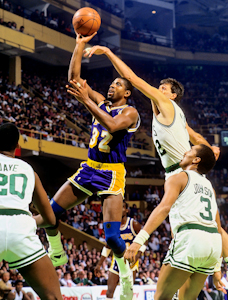 As part of of graduate school seminar class, a professor asked me to name three important figures in counseling/psychology and what I learned from them. With all respect to Rogers, Freud, Jung, Ellis and Skinner, my answer centered on a few non-traditional types. Magic Johnson, Bill Cosby and my grandmother were probably not the answers the professor was expecting.
My three 'therapists' all did things that good counselors do. They each influenced behaviors in a beneficial way. Earvin 'Magic' Johnson infused new life into a tired Lakers team. His enthusiasm, unselfish play and the ability to make others better, immediately had an impact on teammates. Bill Cosby, a legendary comedian was in many ways able to empathize with kids and tap into his inner child to communicate with them. Finally, my grandmother. On days when 6-year-old Bobby Houghtaling pouted and ran away from home (which was across the street) she would fix me lemonade, create a safe environment and turn on the TV until my mom would pick me up later, a changed man. My grandmother always had a calming way about her.
What made my three examples successful was their ability to connect, communicate, build levels of trust and establish longitudinal commitment. Look as long as you want – no rocket science is to be found. But, without those four dynamics in play our therapist's effect would be minimized.
Despite obvious differences, counseling and teaching have much in common. One such area would be the importance of establishing an environment conducive to growth. This environment encompasses things like; trust, respect, connection, modeling behavior, enthusiasm, support, etc.. When clients/students feel that their growth is encouraged and supported some very good things can occur.
The Common Core, along with the over emphasis on standardized tests, limits a great deal of a teacher's potential impact. Threats of school closings, students being denied graduation, overloading kids who struggle on English and Math assessments with extra classes, a teaching to the test dynamic and other concerns, often create a negative learning environment.
Assessing student progress is important. But are standardized tests the best way to go? In many ways it is a lazy and incomplete means of measuring academic competence and growth. Creativity, critical thinking and multiple application(s) are often secondary to scores, rankings and compliance. On top of all of this, the teacher's role is minimized. We are curtailing their ability to be change agents by forcing them to function as (primarily) information givers.
One thing that might be changed is the report card. To present, report cards have provided students with letter grades, a few comments and a bit of data. Why not upgrade the report card by turning it into a more informative assessment? Perhaps details could be provided regarding strengths and weaknesses, learning styles.
Perhaps there could be room for diagnostic recommendations where teachers might offer students strategies on how to improve. By making the report card something where teachers would be asked to provide their students with a template for success (as well as an up-to-date measure of progress) kids and their parents would have a more complete picture of what is going on. It would actually mean much more work for teachers. It will ask them to provide a form of 'educational diagnosis' for all kids. In the end, I believe, it would enhance a child's learning experience. It would also help parents to better assist their children as well as partner with the schools. Just a thought.
Another viable tool, might be called the 'School Portfolio Assessment.' In short, schools would be asked to create a portfolio which would provide an overview of their successes and how they were achieved. These portfolios would be made accessible to all schools around the state so that a sharing of information and strategies might follow.
In addition to this, a 'Portfolio Summit' might be sponsored by the Department of Education where schools could be offered a chance to 'strut their stuff' to others around the state (like an academic show and tell). No grades, no punishments – just a unique sharing and learning experience. In doing so districts around RI would be working in collaboration, rather than being pitted against each other. Schools would not be reduced to test scores.
Measuring the progress of students and their schools is important. It is how this is to be done that is an issue. Rather than racing and punishing we would be better off going on a journey together. In many ways it would be much more work.
Magic Johnson used talent and enthusiasm to breath new life into a tired team. He also had the ability to make those around him better.  Bill Cosby made trying new things fun. He was also able to connect and establish rapport. My grandmother was patient and willing to go where I was. She built around my strengths and needs to facilitate change. All were/are change agents.
Isn't that what we want from our teachers? Don't we really want them to teach kids how to learn along with what to learn? Let us encourage and allow our teachers to be change agents rather than test preparers. The journey will be worth the ride. That is, of course, assuming that everyone wants creative, critical thinkers. Sounds like a question worth asking politicians, reformers, business leaders and the Department of Education.