Saturday marked the first ever Ocean State Oyster Festival, celebrating the resurgent and exploding oyster industry in Rhode Island, held at the Riverwalk in Providence.
Attendees were both curious and hungry. Smiles and a light-hearted attitude infected all those wandering around the festival looking for the next shellfish to slurp.
"For me it's the history, the direct heritage of it all," said Steven Thompson, a Warren Town Council member who spoke at length the "rebuilding" of the oyster industry in his town, which he said was "decimated"and is now growing again.
Farms from across the Ocean State came to display and provide the all-important oysters while music played and smiles were brought to nearly every face.
Oysters are a cornerstone of Rhode Island heritage. According to the Ocean State Oyster Festival oyster farming as far back as 1900 was a thriving industry in RI, Point Judith Pond provided an unmatched bounty of oysters. The industry grew fast with the exponential boom putting immense pressure on local oyster populations. Over fishing decimated the shellfish nearly driving them into extinction. The growth of industry drove itself into near collapse.
About 20 years ago Rhode Island sustainable aquaculture movement began and sparked the current oyster farming climate.
"It's blowin' up. From a few farms 15 years ago to now almost 50," said Travis Lundgre, an employee of Salt Pond Oysters.
When asked why he loves it Lundgre said, "The calm of it all. Oyster farming is just different, different from every other kind of farming."
Jesse Kwan, of the Oyster Country Club, called them "the foundation of the oceans."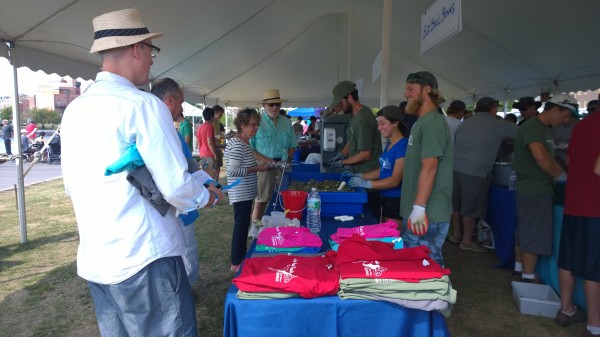 In Rhode Island, oysters are the quintessential local food, with nearly every farm supplying restaurants around the state almost exclusively. Some of the larger farms, including Salt Pond Oysters, Walrus & Carpenter Oysters, and Salt Water Farms, do export their stock to other states and around the country as well.
"You could eat one and I could eat one and we'd taste two different things," said Lauren Nutini of Salt Water Farms, the largest oyster farm in Rhode Island.
With programs like the Blount Shellfish Hatchery at Roger Williams University, Blount Fine Foods, based in Warren, provided the endowment to create the only shellfish hatchery in Rhode Island. Warren was historically an oyster farming community and now that same community is pulling together in efforts to restore the oyster farms.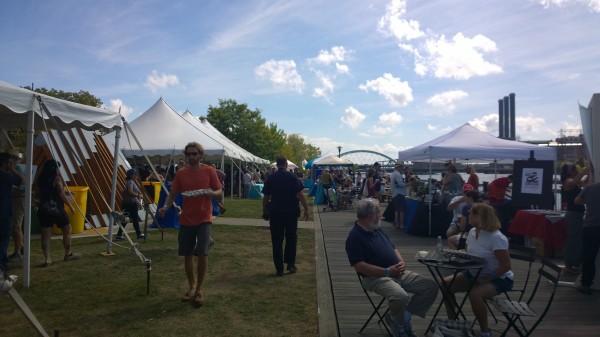 The farms themselves use sustainable farming techniques to ensure the oysters not only thrive but provide a healthy ecosystem around them.  One such practice is "reseeding" or pouring the old shells back into the farms allowing the baby shellfish something to latch onto and grow before popping off and being harvested.
Oysters filter nearly 50 gallons of water a day, with some farms having 6 million animals, that's over 300 million gallons of water being cleaned cumulatively a day for years as they mature and grow.
"There's nothing better after a day at the beach," said attendee Fred Jodry, "It's a mouthful of the ocean." Jodry explained his intrigue with the resurgence of oyster farming in Rhode Island. "Industry took it out, and it's nice to see this coming back."