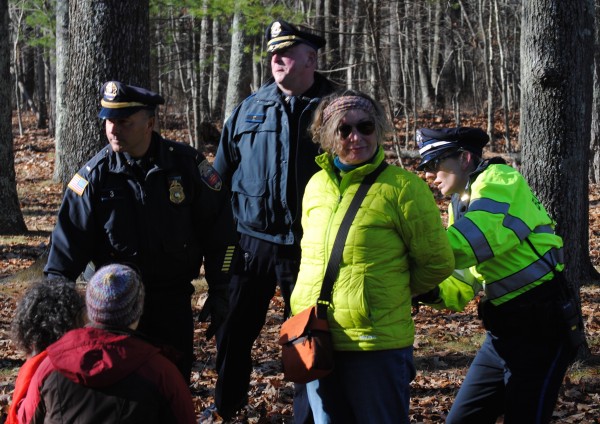 At an upcoming hearing concerning the new gas and oil power plant planned for Burrillville, Invenergy, the multi-billion dollar Chicago-based company behind the project, is to be given 30-60 minutes of public commentary time when ordinary citizens will be limited to merely five minutes each. This isn't how Todd Bianco, coordinator of the Energy Facility Siting Board (EFSB) would put it, but the issue is raising deep concerns among citizens who plan on attending.
The public hearing, scheduled for 6 PM on March 31 at Burrillville High School, is the first opportunity for the public to speak out on the proposed power plant since the EFSB application process began. So far all hearings have taken place at the RI Public Utility Commission offices in Warwick and no public comment has been allowed. At the first EFSB meeting, Invenergy presented a PowerPoint that explained their plans for Burrillville, and made their case for the power plant.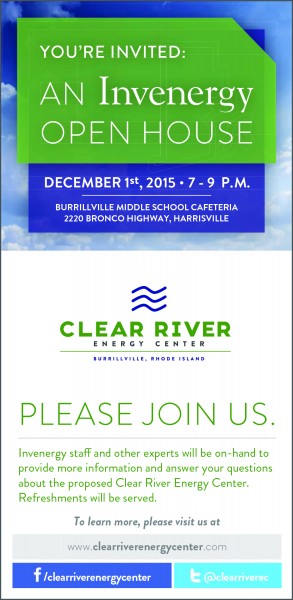 Invenergy then went on to hold two "open houses" in the Burrillville Middle School cafeteria, the first on Dec 1 of last year and the second on March 8, 2016. In addition, all of the documents submitted by Invenergy and others are available on the EFSB docket here.
Recently I learned that Bianco granted Invenergy a substantial portion of the upcoming public commentary EFSB meeting in Burrillville. Invenergy  has been given the opportunity to present what amounts to a one hour, pro-power plant infomercial before any public commentary will be heard. Meanwhile, each member of the public will be granted approximately 5 minutes to speak.
This isn't the first time the public has had access to the EFSB approval process co-opted and blocked. At the beginning of the year several private citizens and environmental groups were blocked from legally intervening in the process. Also there has been a disturbing pattern emerging of anti-power plant protesters being denied access to public events where Governor Gina Raimondo is speaking.
According to Bianco, "At this point, it cannot be predicted how much time will be allotted to individual members of the public over the course of the public comment hearings… as that will depend on how many attend to provide comment."
However, in an email to Paul A. Roselli, who represents the Burrillville Land Trust,  Bianco said, "I truly don't know how much time will be given to each member of the public, but you might plan for no more than five minutes."
Bianco went on to tell me that Invenergy's presentation is required by law and is "for the benefit of members of the public, particularly for those who may have not made it to the preliminary hearing, which occurred during work hours, on a cold winter day, at a location outside of Burrillville."
This is a weird defense. It was the EFSB that decided to have the preliminary meeting, "during work hours, on a cold winter day, at a location outside of Burrillville." They could have scheduled the meeting in Burrillville at a time residents could be in attendance, and chose not to.
"Furthermore," said Bianco, "Invenergy is not being 'allowed 60 minutes to do a presentation,' as you suggested. Invenergy's brief overview of their project is mandated" by law. In a response to Roselli, Bianco said, "I expect Invenergy's presentation will last between thirty minutes to an hour."
Bianco cited R.I. Gen. Laws § 42-98-9.1(b), that states in part:
The [B]oard shall have at least one public hearing in each town or city affected prior to holding its own hearings and prior to taking final action on the application. All details of acceptance for filing in § 42-98-8(a)(1) – (a)(6) shall be presented at town or city hearings for public comment.
As Paul Roselli points out, however, there is nothing in the law that mandates an oral presentation from Invenergy. "If they are required to present their information at a public hearing," said Roselli, "then they can present their testimony in written form."
Mandating that Invenergy present their case at the hearing in written form in no way hinders Invenergy's ability to be heard, if one follows Bianco's logic. As Bianco says, "the Board also accepts written public comment electronically, by mail, and by hand delivery. Oral and written public comment are given the same weight required by the Act." [emphasis mine] If this applies to the public, then surely it applies to Invenergy as well.
Roselli told me that there is much concern about Invenergy making a presentation and taking up valuable public comment time. "Many feel that [Invenergy] has already made their case" said Roselli, noting that he feels that Governor Gina Raimondo, and board members Janet Coit and Margaret Curran have already expressed their support for the project either intentionally or unintentionally.
In short, the EFSB is taking away precious public speaking time and giving it to Invenergy, a large and powerful company with a virtually unlimited amount of money with which to purchase advertising and curry favor with connected politicians.
The public interest is not being served by allowing Invenergy to swallow up their public speaking time.
"The Board expects that all those who provide comments will respect the process and each other's time," said Bianco in an email.
It would be far easier to respect a fair process: one that does not favor big money corporations over the rights of the public to be heard.
Invenergy co-opts public comment hearing for infomercial

,