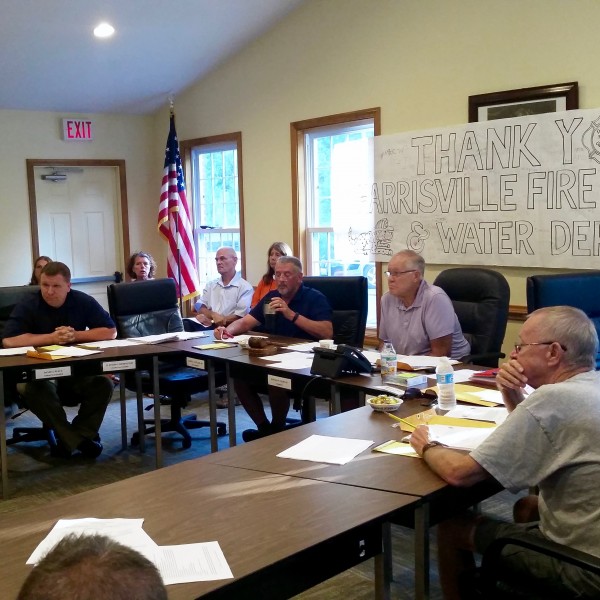 The Harrisville Fire District and Water Board voted 5-1 to turn down Invenergy's offer to purchase water to cool it's proposed $700 million fracked gas and diesel oil burning power plant in Burrillville. Thunderous applause broke out in the Assembly Theater, where the meeting had to be held to accommodate the nearly 100 people in attendance.
The road to the no vote was Rhode Island political theater at its finest, with the Harrisville District attorney, Richard Sinapi, taking on the role of villain in the piece.
Sinapi is not only the attorney for Harrisville, he's also a lobbyist who has testified at the State House in favor of the proposed power plant. He represents the New England Mechanical Contractors Association. In this capacity, on May 25 he testified in favor of the power plant and against Rep. Cale Keable's bill to give the residents of Burrillville a vote on any tax treaties the Burrillville Town Council might negotiate with Invenergy.
At the House Committee on Environment meeting Sinapi suggested that choosing to purchase a home near an existing pipeline means that one should expect a power plant to be built nearby, just as choosing to live near the airport in Warwick means that one should expect runway expansions and jet noise.
Sinapi also suggested that since we live in a republic, people should not expect a democratic vote on things like power plants being located next door to their homes, they need to understand that their representatives will decide for them, and that they do not have a choice in the matter.
It was on the subject of water, however, where Sinapi made his most egregious comments at the House Environmental meeting in May. "Well 3A has in fact been shut down. It was shut down because it was not suitable for potable purposes. You cannot drink that water. It's contaminated with MTBEs. However, you can wash with it, you can bath with it. You can't consume it. That water, that contamination, is 16 years old."
This is of course completely wrong. MTBE contaminated water cannot be used for washing or bathing, by court order. The water will irritate the skin and there is an unpleasant "sweet smell" to the water as well. Sinapi, a legal advisor to the Harrisville Water Board, should have known this.
At the Harrisville Water Board meeting Tuesday evening, Sinapi presented Invenergy's pitch to the water board. He said that he and Harrisville became "involuntarily" involved in the Invenergy project after the Burrillville Town Council asked Harrisville to explore the possibility that drawing MTBE contaminated water out of well 3A might spread MTBE contamination throughout the aquifers. Sinapi did not mention his previous involvement as a lobbyist for the New England Mechanical Contractors Association at the meeting.
The offer from Invenergy was to build a pipeline from a well site in Harrisville to the Invenergy power plant site, at Invenergy's cost. Sinapi presented the idea as an economic boon to Harrisville. The water drawn, said Sinapi, was, "not to exceed the capacity of the well." Harrisville would receive about $10 million dollars in water sales over the life of the power plant.
Additionally, said Sinapi, if Harrisville did not accept the offer, Invenergy would move on to a "third option" which Sinapi described as more expensive for Invenergy. "I would like to emphasize," said Sinapi, "they have a third option. It's not just 3A, they have a third option."
After Sinapi's presentation, during the public commentary period, residents of both Harrisville and Pascoag asked, "What is the third option?"
"I've been told by two sources that they have a third option," said Sinapi.
"You made it up, that's fine," said someone from the audience.
Under further questioning from Burrillville resident Donna Woods, Sinapi admitted that he has "no idea" what the third option might be.
When Burrillville resident (and candidate for Burrillville Town Council) Jeremy Bailey rose to speak, he said, "I have a an issue right now. Mr. Sinapi was paid $15,000 last year to represent the Mechanics Union, who wants the power plant… That's a conflict of interest, and none of you [the Harriville Water Board commissioners] seem to be concerned with that… We have a state that's so corrupt with non-transparency and not a single one of you really has a concern with it."
No one on the board responded to Bailey's concerns. Instead, they moved to vote.
The vote was taken, and Invenergy's proposition to open a new well in Harrisville was turned down, 5-1.
Invenergy loses bid for Harrisville's water

,