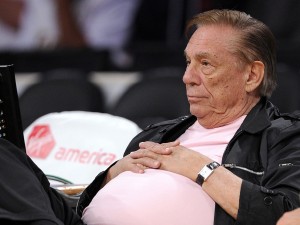 Donald Sterling had a long history of controversial racial stances. However, it was not until sponsors threatened to pull out that the NBA woke up. While it's wonderful that many in the business community are willing to distance themselves from racism, how much of that is financially motivated? I wonder why the business community has remained quiet over the Washington Redskin's issue?
It's morality by pocketbook. Money can create a Potemkin village illusion that all people are treated equally. We continue to fall for that illusion. As Bob Dylan once wrote "Money doesn't talk, it swears."
Cliven Bundy's comments, Paula Deen's fiasco and now Donald Sterling's diatribe, these are salient examples of just how volatile race relations continue to be. As a nation we've come a long way, but there is still much to be done. There may always be individuals like these folks. Sometimes they wind up paying a heavy price – fines, condemnation, becoming a historical pariah. Still, larger problems exist. Why are they sometimes allowed to maintain positions of power? Why didn't others speak out against them? We will single out an occasional jerk from time to time, but fail to recognize cultures that allow them to function.
Donald Sterling's comments are certainly cause for concern, but what motivates a portion of our response is troublesome. It appears as though the National Basketball Association was more influenced by sponsors pulling advertisements than simply doing the right thing.
We have made some significant inroads when it comes to race relations in America. But, let us not fool ourselves. There is not as much benevolence going on in the NBA as many would like to think. There is also not as much altruism (and benevolence) happening in parts of Corporate America as well. All too often it is more about money than it is about doing what is right. Money cannot buy you love – but it seems to be able to buy the appearance of tolerance in some instances.
Now, if only the Native Americans could have a bit more clout with Corporate America.