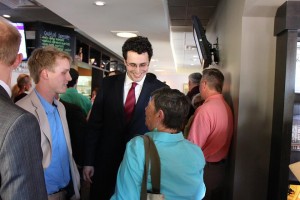 Yesterday, we held the official kickoff for my campaign for state representative in House District 4. I thought this would be a great opportunity to share why I'm running with the RIFuture community.
Growing up, I learned everything I know about resiliency from my mom, who raised my sister and me on her own and made sure we got a great education and had terrific role models. My grandma, who was an executive director of Planned Parenthood in the years before Roe v. Wade, taught me the importance of empowering people to make choices for themselves. And my grandpa, a refugee of the Holocaust, came to America with the deepest appreciation for our democracy, which I carry with me every day.
I came here six years ago for school, and I stayed for Providence, and Rhode Island. I've chosen to make my home here because there is no city with as much beauty, character and diversity on every block as we have in Providence.
We live in an amazing place. But we all know our community faces huge challenges. There are too many people out of work, too many young people who aren't getting the education they deserve. My family always taught me, when there's a challenge, you roll up your sleeves and bring the folks impacted together to solve it. That's why, in 2010 I co-founded a youth-led nonprofit that brings high school students together to push for stronger public schools. I've seen passionate young people in the Providence Student Union win healthier school lunches, change transportation policy so hundreds of students have a way of getting to school safely, and fight the misuse of standardized testing.
These students inspired me to run for office, because they've shown me what can happen when community voices are actually brought to the table. Too often in our state, decisions get made without the people, whether it's our students or our small business owners or our neighbors.
I know we can do better. We can have smarter, bottom-up economic development. We can transform schools into places of real, authentic learning. We make our government more ethical and transparent. If our voices are heard.
I have been working hard to build a campaign worthy of your support, knocking on doors, listening to questions and ideas. I am humbled to see the energy and excitement around my candidacy, because – together – I know we can start something new in Rhode Island.
That's why I want to ask you to join my campaign. Please sign up for updates on my website, let us know if you'd like to volunteer, and consider making a contribution to our campaign and an investment in new, progressive leadership for our state. Thank you. Time to get to work!