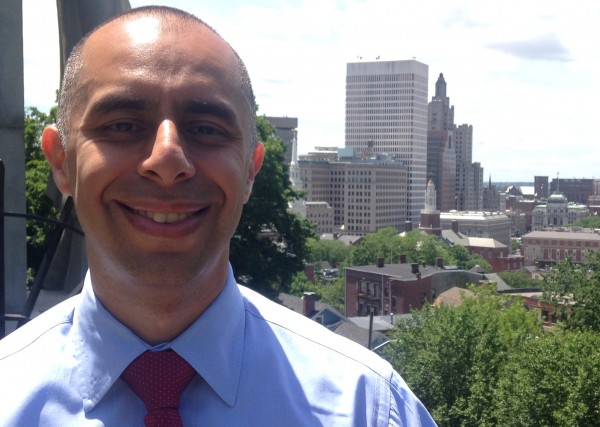 Providence mayoral candidate Jorge Elorza was a law professor at Roger Williams University when he wrote his 2010 University of Pittsburgh Law Review article "Secularism and the Constitution: Can Government Be Too Secular?" In this legal paper Elorza claims, "science has disconfirmed the claim that the theist God has the power to violate the laws of physics" and that in a public school setting, "teaching that the theist God does not exist would not violate any of the underlying values" of the religious clause of the first amendment. In other words, it might be permissible, says Elorza, for public schools to teach that certain kinds of gods do not exist.
In his paper Elorza demonstrates a good deal of knowledge about the so-called new atheism, quoting extensively from Richard Dawkins' The God Delusion, but he also mines popular works of science, such as Dawkins' The Selfish Gene and Brian Greene's The Elegant Universe. This is all part of an effort to "engage the literature from various scientific disciplines and reveal the extent to which religious claims have been successfully debunked by science."
Elorza claims that there "are four views of God that cover the entire spectrum: the theist, deist, atheist, and what I call the memist view." The deist position is that God is a creator who set the universe in motion and currently plays no active role in the universe. This means, says Elorza, that there is no "scientific" difference between being an atheist (one who denies the existence of god) and being a deist. "…the disagreement between deists and atheists is of no consequence," say Elorza.
A theist god, however, is more problematic. "The theist believes," says Elorza, "that God is not only the spark that gave birth to the universe but that He has also intervened in the natural world and has violated the laws of physics since the point of creation." This is the god that Elorza maintains cannot exist, and is disproved by science.
The last kind of god Elorza discusses is "memist." "Based on the concept of the meme," says Elorza, "the memist God resides entirely in the minds of its adherents." For a definition of this kind of god, Elorza turns to The Varieties of Religious Experience by William James, and James' definition of the divine, "…the feelings, acts, and experiences of individual men in their solitude, so far as they apprehend themselves to stand in relation to whatever they may consider the divine." The memist god, it seems, is the god in our head, and this is the one kind of god that is unquestionable real, because it is located within our minds, as a concept. "While the existence of both the deist and theist God can be called into question, the memist God most certainly exists!" declares Elorza.
Elorza seems to be arguing for the legal status of methodological naturalism, (a term he does not use in his paper) which is a requirement when engaging with the scientific method. Methodological naturalism is the assumption that miracles will not happen when scientists engage in experimentation, because science is the study natural laws, and miracles are by their supernatural nature violations. Differentiating between a theistic and atheistic world "is possible because a world with a theist God is fundamentally different than a world without one. In particular, a world without a theist God is one where natural phenomena may be understood as a gradual process over time. However, a world with a theist God that violates the laws of physics produces a world with 'ontological discontinuities.'"
Still, Elorza's ultimate conclusion is that the elimination of the theist god from secular society and laws does not diminish religious protections. "While the memist God would have all of the powers to prescribe a moral code as would the theist God, religious groups might object to the memist God on the grounds that it does not have a divine source. Since it is contained entirely in the human mind, it may be believed that its stature is comparatively diminished in relation to either the deist or theist God. However, I argue that even though it does not have a divine origin, religious adherents should take solace in the fact that this should not diminish its level of constitutional protection."
In other words, even though science can show where your belief in god has come from, and even though there is no good reason to believe in your god, your belief is constitutionally protected.
Now this all sounds very much like the kind of paper an atheist might write. But when confronted about this paper by Ted Nesi during a televised debate with Democratic primary challenger Michael Solomon, Elorza backtracked. (This transcript is copied from Carroll Andrew Morse's piece here.)
Ted Nesi: You wrote in a 2010 law review article that, quote, the evidence shows that it's overwhelmingly unlikely that the theist God exists. Therefore, you wrote, it's Constitutional to teach in public schools that, apparently, the God of Christianity and Judaism does not exist. Why do you believe that, and would you seek to implement that in the Providence public schools?

Providence Mayoral Candidate Jorge Elorza: No, absolutely not….This is a 60 sixty page article, and it's a special definition of what the theist God means. Effectively, I wrote this article because there are a number of quote-unquote angry atheists arguing that since evolution has proved true…God doesn't exist. And I wrote this article to combat them and say that look, you might be right on this small slice, but everything else that God entails remains intact…I don't seek to have this be taught in the public schools. This is a hypothetical that I laid out over 60 pages in an academic article.

TN: But you did write it's unlikely that the theist God exists…Do you believe that yourself, or are you saying this is what those scientists believe?

JE: As narrowly defined, within that article, then yes, I believe that. But that's a very special definition. There is so much more to what God entails.
Why did Elorza mischaracterize his paper? "I wrote this article because there are a number of quote-unquote angry atheists arguing that since evolution has proved true…God doesn't exist." Yet the only kind of God that Elorza allows in his piece is one that exists in human minds, one without any external reality or divinity. Bringing up the "angry atheists" comes off as a dodge, and an insult to atheists. The only people Elorza mentions as being angry in his paper are theistic parents. "…in order to teach, over the objections of angry parents, that the theist God does not exist, the issue must be a well-settled scientific principle."
The truth is that being an atheist is seen as a career killer for politicians seeking public office. The American Humanist Association's Maggie Ardiente claims that 24 members of Congress have privately admitted to be atheists. However, if these politicians are outed, they will deny being atheists. Pew has pointed out that atheists are near the bottom (with Muslims) of the popularity poll with voters.
With public attitudes like these, it makes sense that Elorza might want to distance himself from his paper, which is a shame, because the paper really does argue for the kinds of religious and conscience protections the first amendment guarantees.
If Elorza is elected mayor of Providence, he would be the the highest ranking openly atheist elected official in the country.
But of course, he would first have to be open about his atheism.