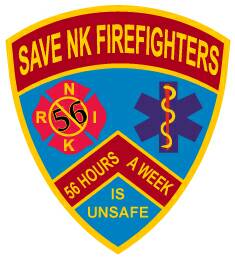 Has sticking it to public sector workers become such popular politics in Rhode Island that the North Kingstown Town Council is willing to risk more than a million dollars to do so? That's what NK fire union president Ray Furtado is beginning to think after the Council was again admonished by Judge Brian Stern; in December he said the town violated the law when it demanded fire fighters work 24 hour shifts and then again today for not coming to a counter-agreement in time.
"It's slowly becoming obvious that this isn't about money," Furtado said, comparing the situation to what Wisconsin Gov. Scott Walker tried to do to organizer labor there. "It's about management rights and hurting public sector workers."
Another sign it isn't about the money: the town has hired infamous anti-labor lawyer Dan Kinder, who has a reputation for winning but also for sometimes costing clients more than he saved them.
In 2012, the town tried to force the fire fighters to work 24-hour shifts and 56 hours in one work week. The new schedule would have meant an additional 728 hours a year for fire fighters along with an average $5 an hour pay cut.
Judge Brian Stern in December ruled the new hours violated labor law and gave the two sides 30 days to negotiate.
Which they did. They even agreed to a tentative agreement last week. But on Saturday the Council rejected the deal. On Monday, Stern gave the two sides until Wednesday to work it out.
The fire fighters are seeking $1.4 million in damages. NK could decide to appeal to the Supreme Court on Wednesday.
It's the second high profile labor dispute North Kingstown has endured recently. This summer, it outsourced school custodians.
Is North Kingstown Going The Way Of Wisconsin?

,