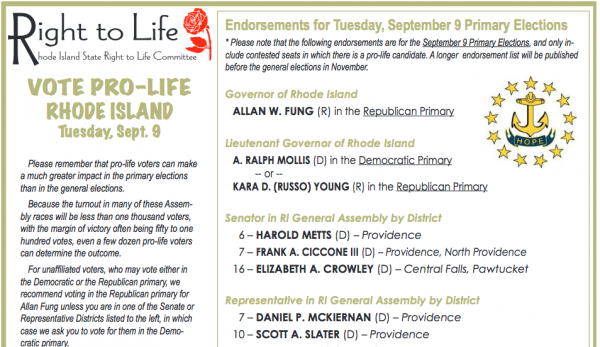 When WPRI hosted a debate between the three Democratic lt. governor candidates, Ralph Mollis said he thinks abortion should be "safe and rare." But he didn't say he thinks they should be legal.
That question is now being raised by his competitor progressive Democrat Frank Ferri after Mollis was endorsed by Rhode Island Right to Life Political Action Committee. Ferri sent Mollis a letter today asking him to clarify his position on abortion.
"This is a matter of trust, honesty, and understanding – making sure that Rhode Island voters know who is really committed to protecting women's reproductive freedom," Ferri wrote.
His campaign manager Dawn Euer said, "Either Rhode Island Right to Life State PAC made a serious mistake with their endorsement by backing someone who is really pro-choice, or Ralph Mollis hasn't told the truth and can't be trusted."
Here's Ferri's letter to Mollis:
August 28, 2014

The Honorable A. Ralph Mollis
PO Box 9524
Providence, RI 02940

Dear Secretary Mollis,

As you know, a woman's right to make reproductive health decisions on her own is of crucial concern to many voters in Rhode Island.  You may know that Planned Parenthood Votes! RI recently commissioned a poll by a leading national firm, Lake Research Associates.  The poll showed that 93 percent of Rhode Island voters say it is important for women in Rhode Island to have access to all of the reproductive health care options available to them – and an overwhelming majority – 85 percent – express support for all available options, including abortion.

During the Lt. Governor debate hosted by WPRI, you were asked whether you are "pro-choice" or "pro-life." You answered that abortion should be "safe and rare." Just a few weeks later, Rhode Island Right to Life State PAC endorsed you and Republican anti-choice activist Kara Young.  As you know, the RI Right to Life State PAC is fiercely anti-abortion.

Because a woman cannot have a 'safe' abortion without it being legal, Dan McGowan, the Channel 12 reporter who wrote the accompanying story, stated that all three candidates were pro-choice.  We can find no evidence of you contradicting that assertion.

This is a matter of trust, honesty, and understanding – making sure that Rhode Island voters know who is really committed to protecting women's reproductive freedom.  Are you pro-choice, as you answered in the debate, or are you anti-choice, as the Rhode Island State Right to Life PAC asserts?

Therefore, I am calling upon you today to release your Rhode Island Right to Life State PAC questionnaire, so that we know where you really stand, and this issue can be resolved once and for all.

We look forward to receiving your questionnaire and your answer today.

Sincerely,

Frank Ferri