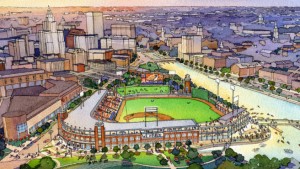 By Friday evening, the opponents of the PawSox proposal to build a stadium in Providence were ecstatic. After a ruling by the federal government that the I-195 land must be sold at fair market value, a well-attended and media-friendly party on Monday at the proposed site, followed by reports that Brown refused to sell their property that PawSox owner Lucchino would have needed to build his stadium on and Speaker Matiello's comments that the project now looked unlikely, it seemed to some like a victory.
Or is it?
The late African freedom fighter Amilcar Cabral once told his troops "tell no lies, claim no easy victories." There are several reasons that would indicate this is not the end of the PawSox putsch, just a break before a real offensive. Even if the parcels designated as parkland remain as such, that does not mean Larry Lucchino is done, not by a long shot.
First, consider the fact that, following the Dueling Pianos forum on August 25, Lucchino was spotted the next day touring the site of the old Victory Plating factory, now called Victory Place. Throughout the I-195 land forum, members of the audience were almost unanimous in opposing building a stadium on that parcel in particular. But several members of the audience did in fact suggest Victory Place as an alternative they would be open to see developed into a stadium. The crowd at Dueling Pianos that evening was not unanimous in opposition to a state subsidy for a ballpark, they were just opposed to the parcel in question being used for that purpose. There is a big difference there.
Second, Gov. Raimondo told WPRO that the negotiations continue despite the revelations about Brown regarding the land. She said then:
As I've said all along, it's a complex deal, you have to get it right for the taxpayers, we're working through it but there are definite obstacles and we can't rush through them.
Coming from someone who said her scheme to bail out Wall Street was 'pension reform', that does not sound like any conversations involving Mr. Lucchino have been terminated.
Mattiello was subjected to a lot of constituent pressure following a round of canvassing of his district by stadium opponents. He also is probably feeling a little stress around the recent revelations about 38 Studios, which show that his mentor William Murphy and his predecessor Gordon Fox were pulling strings long before former Gov. Carcieri laid eyes on Curt Schilling. He has said he is open to having all the facts come out regarding the ongoing litigation so that the public can know the truth. But if he were serious about it, why has he yet to grant Oversight Committee Chair Rep. Karen MacBeth the subpoena power she has been requesting since Mike Stanton profiled him for Rhode Island Monthly in September 2014? Back then, Mattiello was sticking to the original narrative about how the 38 Studios deal was concocted and had a rather problematic excuse regarding MacBeth:
As for 38 Studios, Mattiello says that it was "stone-cold conservatives" — Schilling and former Republican Governor Donald Carcieri — "who put this together." Carcieri "was trying to throw a Hail Mary pass" to jump-start the economy.
Then [Gordon] Fox and friend Mike Corso, the shadowy 38 Studios agent and Providence tax-credit king, got involved and pushed it through a largely unsuspecting legislature… Representative Karen MacBeth, whom Mattiello had made chair of the powerful Oversight Committee in exchange for her support for speaker, is publicly challenging him on 38 Studios. MacBeth is upset that Mattiello won't allow her to subpoena witnesses to investigate, which she says he promised during a meeting at a McDonald's to secure her vote for speaker. Mattiello says he never explicitly promised subpoena power. While he favors a full airing of the facts, he says, he doesn't want to interfere with the ongoing state police probe or civil suits. Furthermore, he questions going to the time and expense to subpoena witnesses who would likely take the Fifth, given the other investigations.
If he was so worried about the expense of a few subpoenaed testimonies before the Oversight Committee, what could possibly have changed his mind in regards to a construction project that economists agree is a way to loose money and proposed by a man who left Baltimore and San Diego rueing the day they met him?
More than likely, this is the reality of the situation: Lucchino has struck out once but will be up to bat again very soon. We are approaching an election year where Mattiello and the rest of the General Assembly are up for re-election but Gina Raimondo is not. She is also trying to get her tolls bill passed. The construction trade unions have not rescinded their endorsement of a stadium proposal. Lucchino has not come forward and said he will stay in Pawtucket. The Providence Journal, who are always to the right and almost always in the wrong, to paraphrase Gore Vidal, continue to print editorials in support of a ball park, which is a meter of how viable their sources think a deal is. More than likely, stadium subsidies will become a bargaining chit following the November election, Mattiello will push the toll bill through in exchange for support for a publicly-funded stadium. All the while, he will hem and haw about due process while quietly praying that the State Police don't produce a damning report akin to the one regarding Allan Fung that shows he was not totally oblivious as the Number Three on Smith Hill regarding what Number One and Number Two were dreaming about video games until after the polls close on November 8, 2016.
Like Yogi Berra said, it ain't over 'til it's over.