In an attempt to convince management to recognize their efforts to form a labor union, employees of J. Goodison held an early-morning rally outside of the Quonset ship repair business.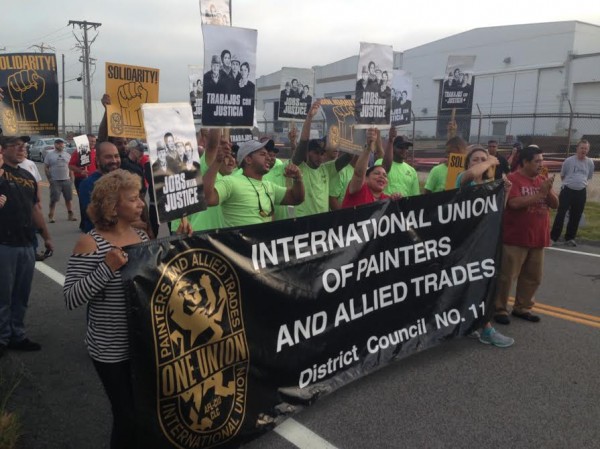 "We need a union because of the respect that we need and the unity that we need and because of the good salary that we need," said  David Ozuna, who speaks little English and used a translator to communicate with the media.
So far, 32 employees have signed union cards with the International Union of Painters and Allied Trades, District 11. They are primarily sandblasters and hydroblasters, though they perform a variety of chores for Goodison, which does work primarily for the federal government. Sandblasters remove paint from boat hulls. The paint is often highly toxic and sandblasting itself can cause permanent skin and/or eye injuries. It's very difficult and dangerous work that takes a toll on a body. Starting wages for these workers is between $10 and $12 an hour.
"They don't give us the safety and the protection that we need to do our job," said Osuna.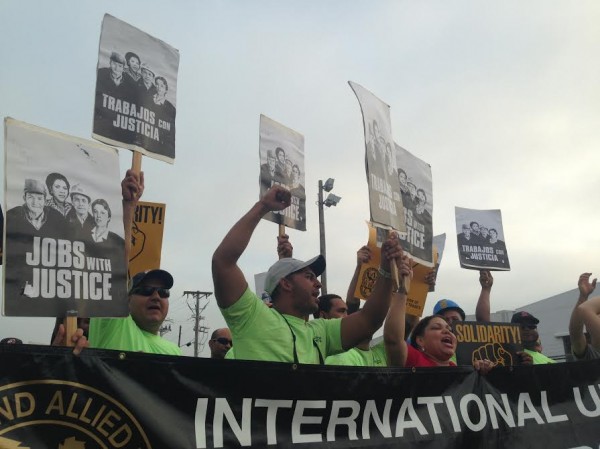 More than 30 workers, in addition to an equal or greater number of union organizers and progressive activists, held court on the Quonset-area road leading to Goodison starting at 6:30 this morning. They chanted, gave motivational speeches and, using a megaphone, implored company officials – who watched the action from afar – to negotiate with the workers.
"The company is going to try to divide you," said union organizer Sam Marvin. "They are going to try to divide the strength you are showing today. The important thing is you have to be strong today, you'll have to be stronger tomorrow and you'll have to be stronger the next day. But you're going to win this campaign and we're going to be there with you."
Another organizer said, "There are two ways the company is going to fight: with fear and with lies. You are going to win with solidarity and the truth."
One woman who said she came on behalf of her church said, "What you are doing is hard, it is a struggle, but it is of God."
State Representative Aaron Regunberg, who came from Providence to stand with the workers, said, "I am proud to join you all this morning. I am proud of all the workers who are standing up today to say you deserve better. You know they are not going to give you what you deserve, you have to win it. This is what the labor movement is all about. Keep fighting until you have what you deserve." He told the employees that there are many in the General Assembly who support their struggle.
So far, 32 Goodison employees have signed union cards, said Jobs With Justice organizer Mike Araujo. There are 55 total employees at Goodison and about 40 have expressed interest in forming a union, he said. The employees and Jobs With Justice have been asking management to voluntarily recognize their union and they plan to file for an election this week, Araujo said. After they file for the election, they have two weeks to hold a vote. If a majority of employees vote for a union, Goodison then has one year to negotiate a contract with the union.
According to the company's website: "J. Goodison Company was founded in 1999 and incorporated in 2001. It is a veteran-owned small business that has grown from its humble beginnings as a father and son operation to an organization that supports 30 full time employees and an additional 25-50 skilled labor and trade subcontractors. The Company's list of clients includes but is not limited to government clients such as the U.S. Coast Guard, the U.S. Navy, NOAA, and the U.S. Parks Department. Similarly, the commercial clients list includes Senesco Marine, Boston Towing & Transportation, and Electric Boat to name a few. J. Goodison Company holds a GSA Contract and 9 Multi-Year IDIQ (Indefinitely Delivery Indefinitely Quantity) contracts with the U.S. Coast Guard."
J. Goodison employees fight to form a labor union

,