About a half hour before Tuesday evening's Harrisville Fire District and Water Board meeting started, attorney Richard Sinapi was engaged in semi-private conversation with board chair Ronald Slocum and vice chair James Scotland Sr inside the meeting place. Sinapi was apparently selling Invenergy's idea to open a new well in Harrisville to cool its power plant to the commissioners, essentially telling them that Harrisville would lose out on $10 million if they did not accept the deal.
I arrived at the meeting site about a half hour early. Outside was Burrillville resident Robert Woods. Woods is a recently appointed member of the Burrillville Planning Board. An outspoken critic of Invenergy's $700 million fracked gas and diesel oil burning power plant, he recently recused himself from planning board business concerning Invenergy out of "an abundance of caution."
Woods told me he could see inside the building, where Harrisville attorney Richard Sinapi was talking to the chair and vice chair of the Harrisville Water Board. The door to the offices were locked but after knocking, Woods and I were let in. Attorney Sinapi, as seen in the video, was engaged in conversation with two members of the board.
"I don't know what plan C is, it's very secret," said Sinapi, "All I know is that it's a lot more expensive than the ten million dollars… So… It's ten million dollars."
"Gentlemen," said Robert Woods, "it seems like this is a little out of order, no? The meeting hasn't started…"
"I'm the attorney, the meeting hasn't started," said Sinapi, "and there's no quorum."
"I realize that but you shouldn't…" began Woods, before Sinapi wheeled around on him.
"There's no quorum, and the meeting hasn't started yet," snapped Sinapi, "and I'm the attorney."
"I realize you're the attorney," said Woods, "you're talking about that to members of the board, I don't know, I'm not an attorney but it just seems a little out of order to me, that's all."
"You're entitled to your opinion," said Sinapi.
"That's why I'm voicing it," said Woods.
Fifteen minutes later, and about ten minutes before the start of the meeting, Sinapi took another commissioner into an office, where he could be seen speaking privately. What they were talking about is not known.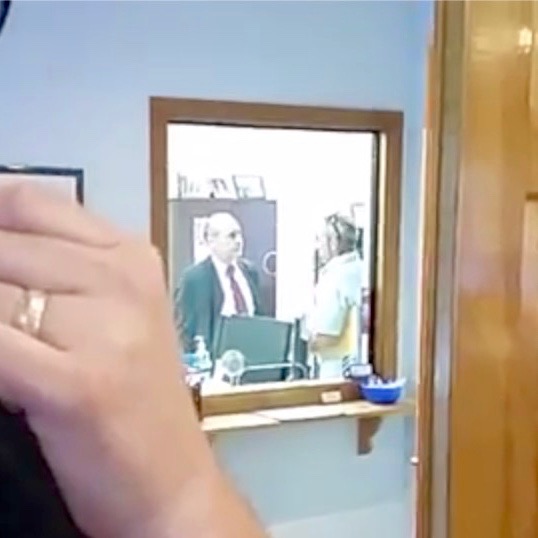 The laws governing open meetings are complex, but on the face of things, Sinapi seems to be correct. His advocacy on behalf of Invenergy's proposal does not seem to have violated the Open Meetings Act. Certainly there was no quorum, but if Sinapi was having this conversation with multiple commissioners in small groups over time, it might constitute what is called a "rolling quorum." But of course, I'm no lawyer.
There are, however, other considerations at play. Many Burrillville residents have told me that they feel that Sinapi should have recused himself, since he is not only the lawyer for Harrisville, he is also the lawyer for the New England Mechanical Contractors Association. In that capacity Sinapi has apparently advocated for Invenergy's power plant at the State House.
In his capacity as Harrisville's lawyer, should Sinapi have been advocating for Invenergy's proposal to the water board? Sinapi says that there is no conflict of interest. I spoke to Sinapi by phone. He maintains that in his capacity speaking for the Mechanical Contractors Association at the State House, he was working to "defeat a bad bill that would be bad for business, not to support or oppose the power plant."
In his capacity as attorney for Harrisville, Sinapi says his job is to protect the Harrisville water supply and the financial integrity of the water board. If "Invenergy brings water into town, through a pipeline," said Sinapi, "it could render the Harrisville supply redundant. We provide half the water to Pascoag."
While he had me on the phone, Sinapi wanted to correct me on two points. I listed the Harrisville Water Board vote against Invenergy's proposal as 5-1 (and the ProJo reported it as 6-1) but Sinapi claims the vote was 5-2 in favor of turning Invenergy's offer down.
Sinapi's other objection to my piece was my contention that a lawyer for the Harrisville Water Board "should have known" more about MTBE than his testimony at the State House seemed to indicate. According to Sinapi, water containing up to 40 parts per million MTBE is acceptable for drinking. In Connecticut, up to 70 parts per million is acceptable. Though MTBE is dangerous, said Sinapi, "it's not like Benzene or something."
Attorney Sinapi denies conflict of interest

,