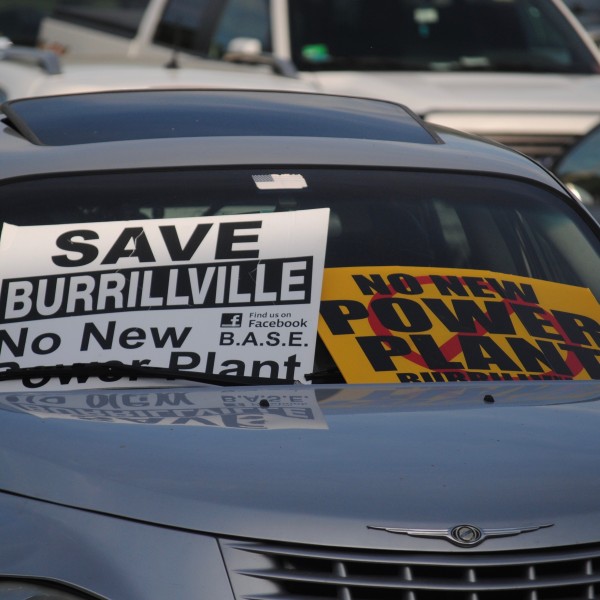 The Rhode Island Department of Health (RIDOH) held a public comment hearing in Burrillville Tuesday to solicit opinions on the potential health effects of building Invenergy's proposed $700 million fracked gas and diesel oil burning power plant. RIDOH has been tasked by the Energy Facility Siting Board (EFSB) to create a non-binding advisory opinion on potential public health concerns relating to the project, including but not limited to biological responses to power frequency, electric, and magnetic fields associated with the operation of the power plant, and the potential impacts on the quality of drinking water associated with the construction and operation of the plant. The final report is due in early September.
RIDOH has released a first draft of their report, which was consumed by Burrillville residents opposed to the plant. Much of the public comment centered around the idea that RIDOH wasn't taking into account the compounded effects of the gas infrastructure in and around Burrillville but was instead concentrating on the proposed power plant by itself.
Perhaps the most dramatic moment of the evening came when Stephanie Sloman rose to give her testimony.
"I had a whole speech prepared," said Sloman (see video #20 below), "but I noticed that Invenergy's sitting over there, and I refuse to speak and read my speech in front of these people. I don't think they should even be here, frankly."
The evening's meeting was made harder on residents of the town because at the same time as this meeting there was a meeting of the Harrisville Fire District and Water Board. This meant that some people (including me) had to run out to the other meeting and then return to the RIDOH hearing, still in progress.
Several Burrillville residents noted that Governor Gina Raimondo, during her visit to Burrillville in July, recommended that residents get involved in and trust the process. That seems awfully hard to do when two important meetings are scheduled at the same time .
Below is all the video from the event.
2
3
4
5
6
7
8
9
10
11
12
13
14
15
16
17
18
19
20
21
22
23
24
25
26
27
28
29
30
31
32
33
34
35
36
Department of Health hears testimony on Burrillville power plant

,