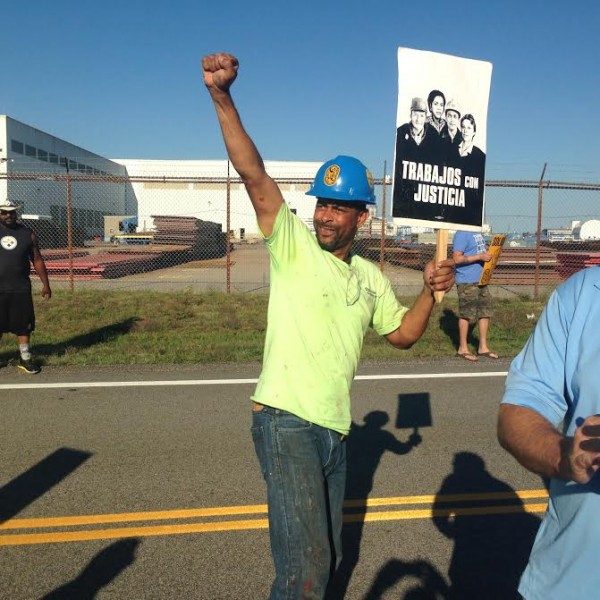 Since declaring their intention to form a union, employees of J. Goodison, a marine repair business at Quonset, say work conditions have actually improved.
"At this moment they are kind of treating us right," David Ozuna, one of the employees, said through a translator. "And that is because they know that we can do something. Every little thing we want they are giving it to us They are giving us attention, if we ask for something they are giving it to us because they know and they think that they can stop this by doing that."
Before they began to organize as with District 11 of the International Union of Painters and Allied Trades, company policy used to be that sandblasters would get a respirator after 90 days, Ozuna said. Not now that they're organizing.
"Because they are seeing the pressure we are putting on them, they are giving them to us." he said.
Respirators aren't the only way J. Goodison is trying to convince its workers not to unionize. According to Justin Kelly, an organizer with IUPAT, the company has also hired a Los Angeles attorney named Carlos Flores to convince the mostly Latino workers not to vote to join the union. He told the workers and some of their supporters about it at a rally outside J. Goodison on Thursday afternoon.
J. Goodison management, which watched the rally from behind the company property line, declined to comment.
There are some 30 employees who have signed union cards. After a similar rally last week, the group filed for an election. If a majority vote to join the union, J. Goodison will have one year to negotiate a contract with the employees. While management has been kinder as of late, Ozuna said the work is still grueling – especially on hot humid days.
But Ozuna isn't intimidated.