When a Warwick resident and doctor checked his phone between appointments, he saw an unfamiliar number. Looking it up, he learned that the call came from Child Support Services, a state agency.
"Good afternoon," said a male voice on his voicemail. "I'm a representative of Senator Walaska. We're looking for some support this election if you go out and vote in the primary we would greatly appreciate it. Thank you."
After hearing the call, and believing the use of state phones for partisan campaign calls to be against the law, the Warwick resident, who asked not to be identified, contacted the Attorney General's office. They told him that the AG's office is only interested in issues of campaign fraud. He was referred to the Secretary of State's office. The Secretary of State's office was similarly disinterested, and referred him to the Board of Elections. According to the resident who sent me the call, the person from the Board of Elections searched through the relevant statutes in vain before giving up and telling the resident that he should call back when he learned exactly what law is being broken.
For future reference, that law seems to be:
§ 36-4-52. Restrictions on political activities of classified employees

No classified employee shall during working hours engage to any extent in any form of partisan politics except that he or she may attend and vote at any party caucus, primary, or election held during working hours. Outside of working hours a classified employee may attend any partisan political rally, club, or gathering and privately express his or her partisan political views but any further partisan political activity on his or her part shall be engaged in only in accordance with the personnel rules. A classified employee violating the provisions of § § 36-4-50–36-4-54, or of the personnel rules shall for a first offense be either demoted or dismissed and for a second offense dismissed. All charges of these violations shall be publicly heard by the personnel appeal board.
Robert Kando executive director of the Board of Elections could not be reached for comment.
John Marion of Common Cause said that the issue appears reminiscent of an ethics complaint against Susan Cicilline Buonanno when she ran for the House District 33 seat that Narragansett Democrat Donald Lally resigned. Buonanno, principal of Gladstone Elementary School in Cranston was accused of using school email and phones to advance her political campaign.
This case is different because it's not the candidate, but someone claiming to represent the candidate who appears to be using state resources for partisan political purposes.
"As you might expect, using state work telephones for campaigning is forbidden, and so we would want to know if this sort of thing was taking place so that the charges could be investigated and suitable disciplinary action taken if warranted," said Fred Sneesby, an administrator at Children's & Family Services. The Warwick resident who sent me the call has been put in contact with Sneesby.
Contacted by phone, Senator Walaska, after I identified myself but before I could fully explain what I was calling about, said, "I know you don't support me. I have no idea. I don't know what you're talking about."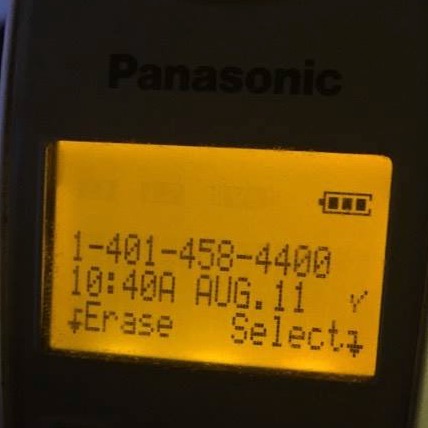 Jeanine Calkin, a progressive Democrat who is running against the 22-year incumbent, said that her husband, Daniel Calkin, received a similar call. A photo of her husband's phone is on the left. Daniel Calkin, listening to the audio above, said he was "pretty sure it's the same guy."
"This looks like a very clear-cut violation," said Sam Bell, executive director of the RI Progressive Democrats."Campaign calls should not be made from state numbers. Being able to direct state workers to campaign for a candidate gives an enormously unfair advantage to powerful incumbents."
Requests for comment from Representative Joseph McNamara and Brandon Bell, respective chairs for the Democratic and Republican parties in Rhode Island have gone unanswered.
As for the Warwick resident and doctor who sent me the call, he says that he is "disinclined to vote for Walaska."
Calls in support for Senator Walaska are coming from state phone

,