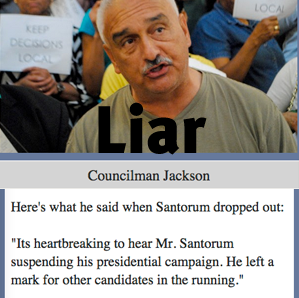 In 2010, Frank Caprio inexplicably destroyed his campaign by telling Barack Obama to "take his endorsement and, really, shove it." Ward 3 city councillor Kevin Jackson may be having a similar moment. Jackson-backers the Providence Apartment Association sent out an email today potentially libeling Marcus Mitchell, attributing to the write-in candidate a quote that Jackson and the PAA can't possibly believe was actually made by their opponent.
The quote by a person using the name Marcus Mitchell laments Rick Santorum dropping out of the 2012 presidential race. The email does not provide a source or context for the quote and asserts that it was Jackson's opponent who made the statement. The PAA has to know that this is not true, and that would make it libel, a civil but not criminal offense.
But we can't prove it. At least not yet.
Department of dirty tricks
The PAA is among the unsavory supporters swirling around the Jackson/Cianci camp. These are the investment property owners who, unsurprisingly, don't like having to pay taxes. Jackson has promised to work to repeal the tax increase on non-owner-occupied rentals. In common parlance, this is an association of slumlords.
In their three+ years on Facebook, the PAA has garnered a whopping 132 "likes". Not exactly a groundswell of support. And, honestly, do most people in Providence really care what these people think or want? Obviously, Mr. Jackson does.
Let's not forget that Mr. Jackson already made the bad decision to co-chair Buddy Cianci's 2014 mayor campaign. Nor should any of us be surprised that old-school influence peddlers like Jackson and Cianci would resort to such tactics. Jackson is savvy enough not to have done this himself, letting the already-disliked PAA take the fall for this foolish, borderline-criminal blunder.
The exact portion of the email in question reads:
As a registered republican in Philadelphia, Mr Mitchell also was a top level aide to Rick Santorum [true] and wanted him to be President. [not true]

Here's what he said when Santorum dropped out:

"Its heartbreaking to hear Mr. Santorum suspending his presidential campaign. He left a mark for other candidates in the running." [somebody, using the name Marcus Mitchell, said this]
Politicians resort to dirty tricks for one reason and one reason only: they're scared. If Kevin Jackson were confident in his chances after last night's candidates forum, this email would never have gone out. The incumbent can feel the momentum that Mitchell is generating. He certainly felt it last night when the Mitchell supporters seemed the more numerous and proved themselves the more enthusiastic by their applause. Cheers for Jackson's closing remarks, in which he stumbled and repeated himself, were distinctly tepid.
Note to Kevin Jackson: there's this thing called the Internet
20 years ago, it probably have taken Mr. Mitchell weeks to debunk this smear, if he could debunk it at all. But today, it will be over in a single news cycle. Because the Internet.
This whole Internet thing must be fairly new to people like Kevin Jackson. I mean…I can't find a Facebook page for his campaign or a Twitter account or even a website. Hell, his page on the city council website doesn't even have a photo!
Mr. Jackson and the PAA will probably be surprised at how fast this blows up in their faces.
Here's the source of the quote. It's from a comment from an otherwise anonymous blog commenter using the name Marcus Mitchell, and it comes at the bottom of a small post on an obscure, now defunct blog called Twenty Year Revolution. The second sentence in the comment reads:
I'm not into politics or elections.
That's the give-away. At the time this comment was made (April 2012), Marcus Mitchell was up to his neck in the highly-politicized fight to create the Providence Community Library.
While there's no smoking gun that would prove Jackson and PAA the knew that the quote was not from their opponent, they knew. If there were a smoking gun (or if one turns up), that would make it libel, and libel is punishable in civil court.
But here's how you know that Jackson and the PAA knew these are different people: their email had already brought up their opponent's highly political past. They knew this wasn't him.
Mitchell's Republican past
From Day One, the Jackson camp has tried to make hay out of the fact that their opponent—our Marcus Mitchell—was once a registered Republican and served as a staffer for then-US Senator Rick Santorum. Mitchell ran Santorum's community relations circa 2005. This story from the alt-weekly Philadelphia City Paper about protesters wanting to contact both PA senators shows exactly how Mitchell handled the office—brilliantly.
Regarding this period of work, the Mitchell campaign has said:
As a longtime progressive, Marcus does not share Sen. Santorum's views on social issues and the senator was aware of that when he offered Marcus the position as Director of Community & Economic Development. He was offered the job because of his record of community service in the Philadelphia area, and he took the job in order to assure that issues of diversity and reconciliation would be considered in the office of one of the country's most conservative legislators. It was a courageous step to take and he is proud of the work he did there.
The choice in ward 3
Some may find Mr. Mitchell's GOP past unsettling, even a deal-breaker. But 100% of the people I know who have worked with him in Providence have nothing but the best to say about him. And it is clear from the organizations he has chosen to lead that this is a man who puts community interests first.
Voters in ward 3 need to chose between this challenger—an open book with a proven history of building successful movements and coalitions—and a barely-visible incumbent allied with the worst actors on the political scene.
Not really a choice, is it?
Jackson allies smear Marcus Mitchell

,