Protesting fracking and the proposed Spectra pipeline expansion in Burrillville, three Rhode Islanders were arrested at Senator Jack Reed's Cranston office Friday afternoon. The activists are: Sherrie'Anne Andre, Pia Ward, and Nick Katkevich.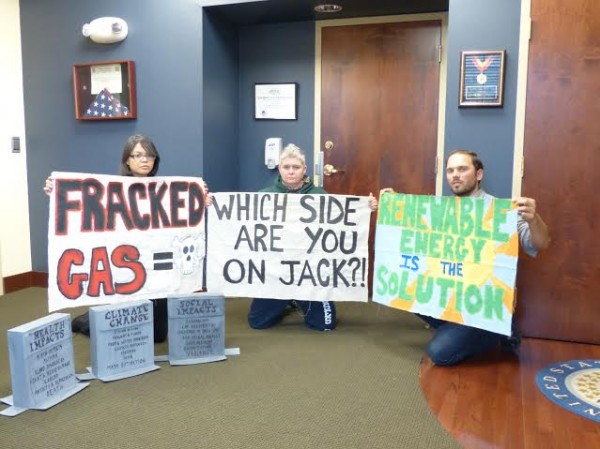 The Spectra Energy Algonquin Pipeline moves natural gas from New Jersey to New England. The expansion project, intended to lower northeast energy prices, calls for a new compressor station in Burrillville that activists say will increase pollution.
"There's no reason we should be dumping more toxins into Burrillville's air to meet our energy demands," said Nick Katkevich, in a press release alerting the media of the impending arrests. "No community deserves to be the casualty of our lack of political will. It's time for RI's senators to stand up against the natural gas industry, and to invest instead in real sustainable energy solutions."
Senators Jack Reed and Sheldon Whitehouse have neither supported or opposed the project. Activists say a coalition of New England senators asked for the federal regulatory process to be "fast-tracked" but a spokesman for Reed, said the letter at question calls for a "thorough and expeditious" review. Here's the letter to Federal Energy Regulatory Commission.
"Peaceful civil disobedience has a long history in Rhode Island. Our office understands that and treated these individuals with the utmost respect, offered them snacks and drinks, listened to their concerns, and gave them every opportunity not to be arrested," said Reed spokesman Chip Unruh. "But the office is not built for overnight guests and the three individuals made clear their desire for the publicity that comes with being arrested."
"Senator Reed respects their views but also believes aging energy infrastructure brings its own set of environmental issues. He recently sat down with this group to hear their views.  And to ensure their opinions are heard directly by FERC, he arranged a public meeting for them in Rhode Island.  [He] believes Rhode Island needs a modern energy infrastructure so we have a more affordable and available energy supply."
The pipeline issue is heating up on both sides in northern Rhode Island. Conservative columnist and Valley Breeze publisher Tom Ward wrote a scathing critique of the climate actions concerning the pipeline project. Whitehouse wrote a response in the Valley Breeze saying the activists protested his office as well.
"Natural gas does raise serious issues about methane leakage and 'fracking' technology, and I'm working to solve them," he wrote, "but solving our regional pipeline capacity constraint is a separate issue."
Around the northeast, climate activists are mobilizing around the issue of fracking and gas pipelines, saying the technologies are ecologically and economically unsound. Earlier in the week 64 people were arrested in Vermont for a similar direct action at Governor Pete Shumlin's residence in Montpelier. In upstate New York, 10 people were arrested for protesting fracking and gas expansion. Each action couched itself in the parlance of the Occupy Wall Street movement.
Pipeline protesters arrested at Senator Reed's office

,