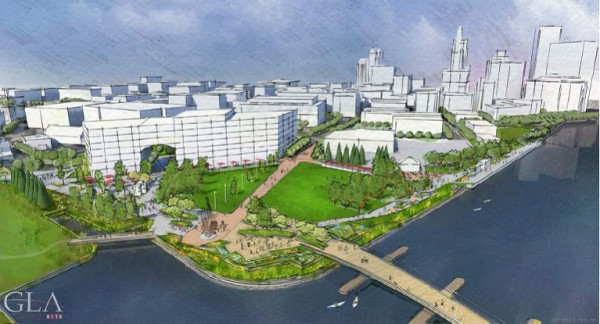 Members of the community, including many cyclists, the head of the S. Main Street Merchants' Association, the RI Bike Coalition, and staff members of Brown and RISD came to last month's Bike & Ped Advisory Commission (BPAC) meeting in Providence to support protected bike lanes on the section of Main Street from Wickenden/Point Streets to College/Westminster Streets.
This BPAC meeting had testimony from I-195 Commissioner Jan Brodie, and BPAC Commssioner Eric Weis took the chance to ask her if she supported protected bike lanes on the street.
Brodie said, "You don't need to remove that second lane of travel. My biggest problem on S. Main is the double parking for delivery. If you take a lane of traffic out, you will just stop it. We don't want that double parking thing to necessarily go away because that is how those activated first-floor uses stay activated.  I hate driving on Boylston, on Newbury Street in Boston. It's all about the double, triple parking. They don't do anything about it because every one of those first floor uses is activated [inaudible]. I understand it's awkward."
James Kennedy: "Do we have the opportunity to put loading zones in, because double parking is not something that they're really supposed to do" [laughter from group}
Brodie: Of course not [i.e., that cars aren't supposed to double park.].
James Kennedy: I understand, I definitely hear you, [double parking] is a very active use of [the street]. We need the loading, whatever is happening there needs to happen. But, isn't there a way that we can manage the supply of parking that exists through metering and loading zones?
Brodie: Um, I don't know the answer to that. I imagine that would have been the solution if there was that easy solution. I don't think they're doing it because they just don't want to go around the corner. Um, some of these properties don't have a back. It's part and parcel of Northeastern, older cities that don't have their current needs built into their development. I'll try to think of some of the ones that utilize the double parking who are—um, it's restaurants–
Jenn Steinfeld [another BPAC Commissioner]: The big truck deliveries.
Brodie: The big truck deliveries, and it's usually early in the morning.
James Kennedy: What I mean though, is with the on-street parking that already exists, couldn't we create loading zones within that on-street parking, so that there's loading zones for the trucks.
Brodie: Parking is another option for people. I don't want to take it away. There isn't a ton. It's probably in the right balance, because there are only so many streets, and the more dense we build, the tighter the ratio between street parking and a lot of square feet built. So, um, to take, to take the need for parking out of the street and put it in centralized parking garages leaves some on-street parking so that people can zip in and zip out.  All, I think all of these make for an interesting urban fabric.
James Kennedy: You wouldn't want to remove all the parking, I mean, but obviously if we had both of the travel lanes we wouldn't have a protected bike lane, so balancing the—having some of the parking used as loading zones for trucks, which is a use that is needed, and having metering so that the zip in and zip out can happen more effectively, alongside the fact that we're adding garages, I mean, would you balance that and say that the parking is more important than the protected bike lane?
Brodie: My sense is that a shared bike lanes is—in the city—is an appropriate way to get bikes to go through the city.
Kennedy: What do you mean by a "shared bike lane" though?
Brodie: Uh, cars can go on it. A truck could pull over and do a delivery. It's striped appropriately. And especially if it has some loading on it, it's not going to be a through lane, people are not going to be going fast.
Brodie indicated that her views on the matter are up for evolution. I certainly hope she will check out Donald Shoup's work on parking management and change her stance to support metering of parking alongside the protected bike lanes, which have broad community support. It would also be helpful if she reviewed the quick success offered by protected bike lanes to cities like Chicago, where some streets have more bikes than cars on them after just a short period of having the infrastructure. It might also be good to review @carfreepvd's great piece highlighting the "P-Wiggle" which includes S. Main & Water Streets as a means of getting around the hills on the East Side.
Jan Brodie of I-195 Commission says no to protected bike lanes

,