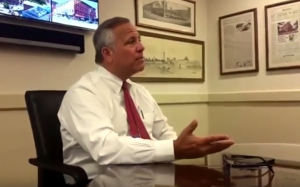 Joe Paolino admitted it was "silly" to exclude the press from the press conference he held today.
"That was a mistake by security guards that don't even work for us," he said. "It would have been silly of me not to have RI Future and Providence Business, National Public Radio and the Providence Journal not there. I don't have press conferences without press."
To make amends, he did a sit down interview with RI Future today. "I would have wanted you there to ask me the tough questions you are going to ask me now," he said.
Joe Paolino explains blundered press conference, blames security

,