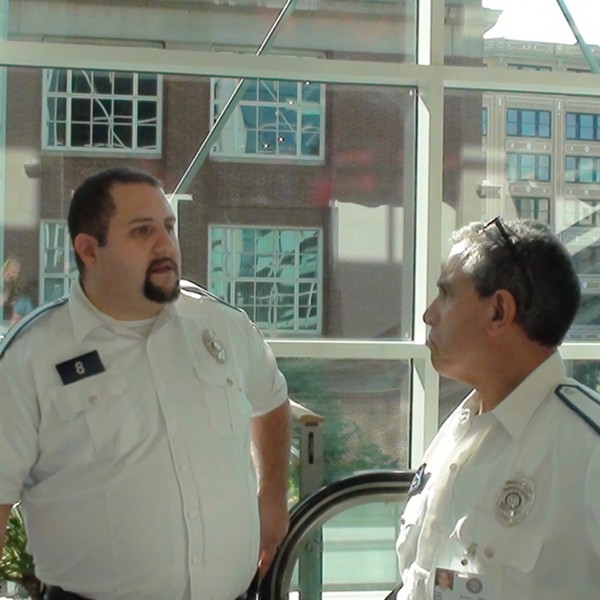 On Wednesday morning, reporters and activists were prevented from attending real estate developer Joseph Paolino's press conference where he was to announce his plans regarding the issue of homelessness. The behavior of the security guards and police officers at the Providence Convention Center, where the press conference was held, became a preview of what many fear might become the norm if the wrong policies are instituted in downtown Providence.
As activists and reporters entered the convention center, a security guard raised his hand and stopped everyone cold. "I don't know where you guys are trying to go," said the guard, "but I can't let you guys go anywhere."
A Providence police officer added that only "designated" people were allow to go up to the fifth floor where the press conference was taking place. It became quickly apparent that the activists and some reporters were not the "right kind of people" for the exclusive press conference.
Calls upstairs to the people in charge were useless. It didn't matter to the convention center security guards or to the police officers that reporters and city residents were being denied access to a public meeting pertinent to their lives. What mattered, it seemed, was how one was dressed, who you knew, and how security perceived you.
People who were dressed in nice suits and ties, wearing nice clothes and carrying briefcases – or, let's face it, white and upper class people – were allowed access. If you didn't fit that bill, you were stopped in the lobby.
WPRO reporter Anita Baffoni was allowed upstairs with another woman who claimed she was a reporter, but RI Future's Bob Plain was denied. Security claimed that the women had "credentials." This is a matter in dispute.
Soon, people came downstairs from where the press conference was taking place and started approving some people and turning down others. Again, this was done either from familiarity, i.e. people in positions of authority recognizing each other, or through profiling along racial and class lines.
"It's a private meeting," said a man, who suddenly seemed in charge. "We're trying to treat everyone like ladies and gentlemen," he said. I countered that he was treating people like "second-class citizens" but he doubled down, saying that that "was absolutely not true."
Some people were allowed to take the escalator without having so much as a single word or objection from security lobbied at them. These people were white and dressed nicely. For others it became necessary to storm past security and risk arrest if they wished to attend the press conference.
Convention center security eventually admitted that they couldn't accost people. That didn't stop them from threatening arrest. The Providence Police who were present were not arresting people, however, even when some activists made it all the way up to the fifth floor and began chanting outside the room where Paolino was holding court.
Is this the future for Kennedy Plaza? Access for some, as long as they look rich and white and have the right connections, while others become subject to ruthless regulations meant to keep us always on the edge of arrest?
Ordinances, such as "banning the distribution of anything to occupants of vehicles" are being proposed to the Providence City Council and being seriously considered. The ACLU's Steve Brown calls this proposed ordinance "a direct attack on individuals who are struggling with homelessness or poverty and who seek to peacefully exercise their First Amendment rights to solicit donations."
To his credit, Paolino said that restricting access to some reporters was inadvertent. He said he had no intention of preventing RI Future, the Providence Journal, RINPR and the Providence Business News from attending. But he did want to keep the activists and protesters away. He didn't want his press conference disrupted.
When we hide our public meetings and press conferences behind security guards and police officers, restricting access to only the "right" people and the proper, embedded media, we set up a system that respects the rights of the rich over the rights of the poor. We set up a two tiered class system of the kind that lifts up some people by stepping on others.
Not unlike what some people would like to see in Kennedy Plaza.
Press conference presents a glimpse of our dystopian future

,