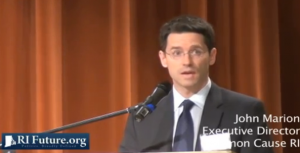 "I wish I could say, 'Go read this book! There's a great narrative of what happened in 1984-1986,'" says John Marion, Executive Director of Common Cause RI, "There isn't a single volume that tells that story."
Instead, Marion gave this terrific talk at the opening of a forum sponsored by the Hassenfeld Institute for Public Leadership at Bryant, the Roger Williams University School of Law, Common Cause Rhode Island and the Rhode Island League of Women Voters that sought to provide needed information to the public about the possibility of a Constitutional Convention in the next few years.
What will a Constitutional Convention look like? What issues are likely to be taken up? What will an election of delegates look like and what will this all cost? Marion attempts to answer these and other questions by examining the history of the 1984-1986 Constitutional Convention held here in Rhode Island, which is also the last Constitutional Convention to be held anywhere in the United States.
This might just be the best introduction to this important subject available anywhere.