For those of you who aren't as obsessed over land use and transportation as I am, you may not be aware of the annual #MarchMadness #parkingcrater competition on Streetsblog. Last year's winner, Tulsa, Oklahoma, was certainly embarrassed to get national attention to its poor land use, but the pain must have worn off when the city quickly changed its zoning code and land use policies to discourage surface lots in its downtown. We could certainly use such a victory in Providence. Here are some of the places we've highlighted in the state so far:
University of Rhode Island campus, Kingston, RI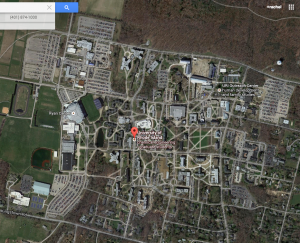 URI is a relatively pretty campus, although with the campus constantly expanding its parking, it's hard to know how long that will be the case. Eco RI has highlighted the campus' hunger for farmland, which it has been quickly converting into surface lots. URI's Kingston campus does have a policy of charging a small fee for parking to residents and students, but the need to add more lots suggests that that price does not meet the demand. URI's other positive features include support for RIPTA passes to students at its Kingston campus, as well as a bike path running nearby it through the villages of South Kingstown and Narragansett. URI has failed so far to make crossing Route 138 to the bike path safe for students, and also has yet to charge any fee or provide any transit incentive for students or faculty at its Providence campus, which is nearby Kennedy Plaza.
Which brings us to. . .
Rhode Island College, Providence, RI
Rhode Island College is a warning of what URI could become. With "free" parking for students (paid for automatically through tuition), RIC doesn't even charge visitors from outside the university to park. It's entire campus is wall-to-wall surface lots. It's the saddest/ugliest thing I've ever experienced.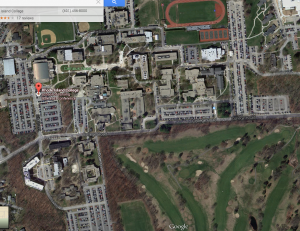 RIC's policy means higher fees for students, who don't even find themselves happy with what they get in return: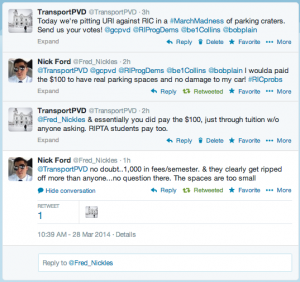 South Side Hospital Complex, Providence, RI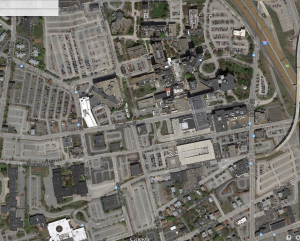 Whoa! It's like the surface of the moon over there!
The Providence Streetcar is planned to terminate in the hospital complex, and I certainly hope it will improve development patterns there and reduce the need for so many lots. However, there's a real need to develop #frequentRIPTA, as the 12 minute frequency planned for peak streetcar trips will not be adequate for such a short route.
One also wonders if doctors and nurses would have more positive impact on the neighborhood's struggling businesses if they didn't have to trek across huge lots to get to anything outside of the hospital.
The South Side of Providence doesn't have a great public reputation, but I've spent a lot of time walking and biking down there, and it's a really nice community with a lot of good things going for it. Another thing that would help reduce this parking crater would be to update the Point Street I-95 crossing. It's currently designed as a two-lane one way with a lot of fast traffic on both sides, very poor pedestrian access, and virtually no way to cross on bike, except for the fleet of heart. The South Side is deceptively close to downtown Providence, and could have a lot of mobility benefits for low income folks on a one- or zero-car budget if RIDOT hadn't callously built its infrastructure for circa 1955.
The Dean Street Bridge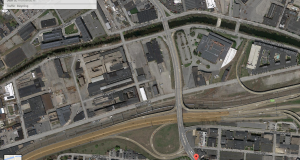 This span of bridge crosses U.S. 6 and the Amtrak Northeast Corridor between Federal Hill and Smith Hill, but with no access for transit or bikes. The ramps into Federal Hill are just a stone's throw from the Viaduct, but apparently the state also thinks it appropriate to waste a huge footprint of land so that people can use highways as local roads. A 2013 assessment by RIDOT found the bridge to be in "fair" condition, and called it "functionally obsolete" (functional obsolescence can refer to a number of things but does not indicate structural problems. It can, for instance, simply mean that the agency feels the bridge needs more "capacity", i.e., costly widening). The bridge is part of a series of expensive infrastructure projects necessary to U.S. 6 & 10, including the 6/10 Connector, which will come at an estimated cost of $500 Million and will dwarf the cost of the Sakonnet Bridge. The poor design of the Dean Street Bridge, with poor multimodal access, means it's in a constant traffic jam for users, and cuts of anyone who is not driving.
Perhaps this is a job for a highway removal, and unlike I-195, let's take it out and just not replace U.S. 6 at all. The 480 foot span of the Dean Street Bridge could then be considerably reduced in for whatever comes next, and multimodal improvements like transit lanes, protected bike lanes and wide sidewalks could carry users other than cars between two of Providence's nicest neighborhoods.
The Statehouse Lawn
Highlighted by the Projo, The Phoenix, and Providence Preservation Society as a majorly bad land use, the surface lots that Governor Chafee added to Francis Street and the Statehouse lawn have set taxpayers back millions (the Francis Street lot cost $3.1 Million for land acquisition alone, making each of the approximately 100 parking spots $30,000 a pop, without factoring in things like lighting, paving, or drainage costs). To put this in perspective, with matching funds from a City of Providence program, residents could plant 15,000 street trees for this cost, half that if they had no matching funds from the program. In a city of 25,000 street trees, that would represent a huge growth in green space. The Walking Bostonian has reported on the comparative cost of providing bus service compared to parking and found bus service to be cheaper, while a Hartford study recently found that for each parking spot a city gets, it loses $1,200 in tax revenue.
The (Proposed) Garrahy Garage
As we finish our week of educating the I-195 Commission about the need for urban protected bike lanes, the front-and-center position of parking comes to mind. Commissioner Jan Brodie last expressed opposition to the bike lanes, which have broad community support, because they would threaten double parking (which is illegal), and did not agree to using a few on-street spots as loading zones for the court buses and trucks that tend to block the street. The fact that the I-195 Commission has been encouraging public expenditures on a parking garage, at $30,000-$50,000 per spot estimated cost should seem a little out of place with this, especially when it's noted that Providence's downtown is covered in parking in every direction, and that getting people on bikes or into transit makes many parking spots available without adding any.
The project has been greenwashed, in my opinion, by adding a bus hub to the bottom of the garage, but of course as a driver what one needs least is a garage to park and catch a bus from, and as a transit user what one needs least is a bus hub at which to park one's car. So it's kind of like wrapping yarn around a pigeon to attach it to a rat, and then calling it a magical griffin. . .
Do you have a #parkingcrater to add to our #MarchMadness competition? Tweet one at @transportpvd!
THIS JUST IN: As I was writing this, Barry Schiller of the Coalition for Transportation Choices wrote to say that RIDOT is planning to widen I-95 through parts of Providence, at $46 Million in costs. I can't wait to see the parking craters that come of that plan if it's ever approved. . . I <3 RIDOT.
~~~~
Note: An earlier version of this article attributed an incorrect cost estimate for the replacement of the Dean Street Bridge. This post has been updated to include an assessment by RIDOT that does find the bridge to be "functional deficient" and in only "fair" structural condition for its superstructure and substructure. Thanks to commenter Jef Nickerson of Greater City Providence for noting this error.