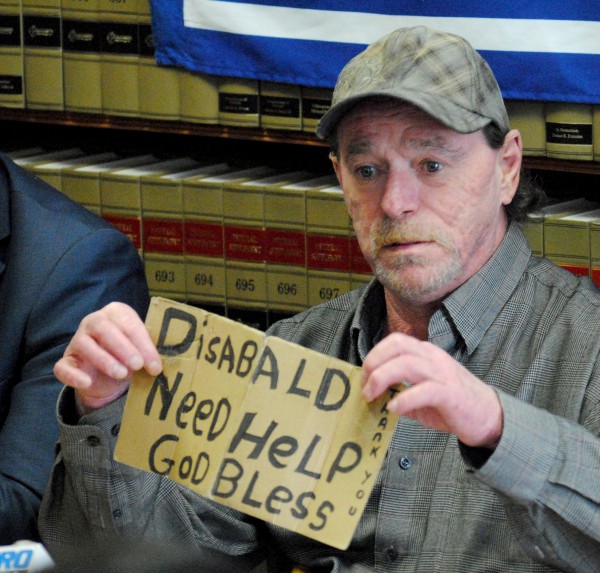 Johnston is the third city in Rhode Island to stop enforcing its aggressive panhandling ordinance after the ACLU of Rhode Island sent the city a letter threatening a lawsuit. Providence and Cranston did so earlier this year.
"The police chief made the decision not to enforce that ordinance at this time," said Pawtucket/East Providence Senator Bill Conley, who is also the city solicitor for Johnston. "We're going to look at how these cases play out in court and revisit the issue."
The city agreed via a letter not to enforce the anti-panhandling law after receiving a letter from the ACLU.
"We believe that the Town ordinance raises significant constitutional concerns by impinging on the First Amendment rights of the homeless and the poor," said the letter from ACLU Executive Director Steven Brown dated May 10. "In the past year, in fact, at least three courts elsewhere have struck down laws very similar to the Town's "aggressive begging" ban. See Thayer v. City of Worcester, 2015 WL 6872450 (D. Mass. 2015); Browne v. City of Grand Junction,2015 WL 5728755 (D. Colo. 2015); and McLaughlin v. City of Lowell, 2015 WL 6453144 (D.Mass. 2015). The unsuccessful defense of these laws has come at great financial expense to those cities."
ACLU volunteer attorney Marc Gursky hailed the city's quick decision to suspend the law. "I commend town officials for acting promptly in recognizing their constitutional obligations and in saving taxpayers from the expense of an unnecessary lawsuit," he said.
"I am optimistic that as municipalities are compelled not to criminalize homelessness and poverty, they will instead collaborate with constituents and other advocates on solutions to these issues, including affordable housing and adequate income supports," said Megan Smith, an outreach worker with House of Hope, an organization that helps homeless people.
Conley said it would be up to the city council to repeal the law. He doesn't think Johnston police officers will still enforce it. "If that happened I think the chief would remind that officer that department policy is not to do that," he said.
Providence agreed to stop enforcing its aggressive panhandling law in February – a move that drew the ire of downtown business interests. Courts have recently struck down laws targeting aggressive panhandling, saying panhandling is constitutionally protected speech and noting other laws cover aggressive behavior.
The ACLU, in its press release, said, it "is engaged in ongoing efforts to challenge and repeal laws that disproportionately affect the rights of the homeless" but said no further actions are planned at this time. RI Future is researching whether other communities have such laws.
Correction: An earlier version of this post neglected to mention that Cranston stopped enforcing its aggressive panhandling ordinance.
Johnston is RI's third city to stop enforcing aggressive panhandling law

,