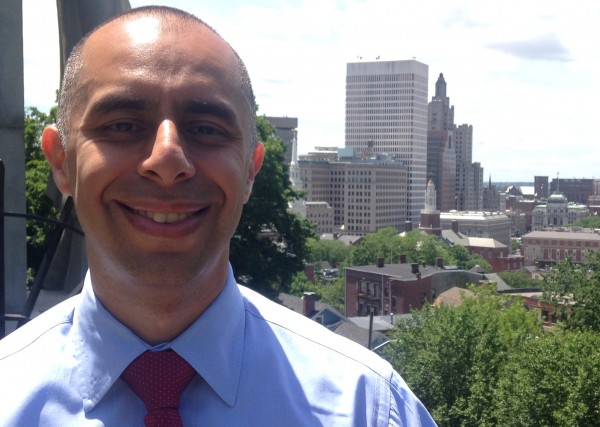 Jorge Elorza, a 38-year-old former housing court judge and faculty member at Roger Williams University, may be short of political experience as he bids to become the next mayor of Providence, but he's long on life experiences. I asked him how he got involved in politics, and he told me a story of childhood friend's murder, and leaving a Wall Street job fresh out of the University of Rhode Island.
Elorza is full of such amazing stories. His parents were undocumented workers who crossed the border illegally from Guatemala. His father decided to come to the United States after being approached by Guatemalan guerrillas during political unrest of the mid-1970's.
He speaks fondly of his hardscrabble upbringing on Cranston Street, on Providence's West Side.
Elorza is a longtime Angel Taveras supporter – he worked on the current mayor's first campaign for congress and briefly as Taveras ran for mayor. When he was first approached about the idea, Elorza said he was initially uninterested in running for mayor but eventually decided it was a great way to help the community.
We talked a lot about education policy, and Elorza's idea to keep schools open through the summer and restructuring them to be more akin to community centers.
In some regards, Elorza would mimic Mayor Taveras on education policy. Though Elorza said he wouldn't have fired the teachers as Taveras did.
Elorza is on the board of directors of Achievement First, and spoke highly of the effect charter schools can have on traditional public schools.
Forget Buddy Cianci, I wanted to know how an Elorza administration would be different than a Smiley administration. I asked him about their differences.
I asked him about the biggest issue for Providence? Of course he said, education and the economy, but he reiterated what he said at his announcement. "I'm running for mayor for one reason: because I want Providence to be a place where working families can succeed."
"Sometimes I truly believe that we all just don't interact enough to know that we all want the exact same thing, we want better schools, we all want a stronger economy and we want safe and vibrant neighborhoods," Elorza said when we were talking about working together.