Reverend Joyce Penfield, of the St. Peter's and St. Andrew's Episcopal Church in Providence, has been fighting for racial and social justice her entire life. "It's been my calling since I was 13," she said.
Her father was a leader of the local Lutheran church in Phylo, Illinois – "I lived in a cornfield, honestly," she said, by way of describing Phylo's rural character – and the congregation decided it didn't want to rent out a church property for fear of potentially attracting a black tenant. "But you raised me to love everyone," Penfield remembers arguing with her father at the time.
"I believed what they taught me about Jesus," Penfield told me, "that you are supposed to love everyone – especially those who have been left behind."
She graduated high school in 1964 and became active in the Civil Rights Movement. She became a minister and considered studying at the Chicago Theological Seminary, where Jesse Jackson was educated. She joined the Peace Corp and did several stints, over the years, in Nigeria. She married a Nigerian man and became active with the NAACP when their biracial children experienced discrimination from the police in New Jersey.
When she moved to Rhode Island in 2001 she became the Episcopal minister at the ACI, and immediately realized a need for post-prison rehabilitative programs. The recidivism rate at the time, she said, was about 65 percent.
"If you have a product that is successful only 35 percent of the time, that's not very good," Penfield said. "But nobody cares about prisoners because they create jobs. I began to see the real problem. There wasn't any place for them to go and there wasn't any help for them. There are so many roadblocks people encounter when they first get out of jail. They might have lost friends, they probably lost their job."
So in 2004, she created The Blessing Way, a halfway house for homeless former inmates trying to stay sober.
"We're a bridge to integrating back into the community," Penfield said. "We're almost like a shelter, but a little bit better. We help people fly on their own."
Physically, the Blessing Way is a three-story apartment building on the property of the St. Peter's and St. Andrew's Church where Penfield preaches. Rooms are rented to former inmates in exchange for staying sober, finding work and putting their lives back together – all of which the Blessing Way offers help with.
"We have life skills classes, financial management, emotional development," Penfield said, describing some of the services Blessing Way offers its clients. There are job skills training sessions and a program that puts people to work in the community as day laborers and carpenters. Last year DARE spoke to residents about the Ban The Box law that prevents employers from asking about arrest records on job applications. Residents are required to attend drug counseling, and random drug tests.
"There are myriad roadblocks people encounter when they get out of jail," she said. "Anyone would be weighed down. If there are addiction troubles or mental illness, it's a miracle when people can do it on their own."
A zero tolerance policy on drugs is necessary, Penfield said. "You must be severe and they have to leave … they trigger everyone else around them." And, she added, "the next day you're going to have everyone in prison thinking you're a crack house."
From 2006 to 2012 153 people have gone through the Blessing Way program, Penfield said, and 61 percent of men graduated as did about 58 percent of the women. She assumes men do better because the availability of manual labor jobs makes it easier for men to find post-prison employment.
The beds aren't always full at the Blessing Way. That's partly because of the strict no drugs or alcohol policy, and partly because it can't always afford to take in new residents. The program operates on a very small budget, and only some of the staff take a paycheck. Penfield does not, but there are a few former residents who earn a small stipend for helping out. Penfield has housing through the church but only gets paid for 10 hours a week. She's essentially experiencing the same poverty as are the residents of the Blessing Way.
But rather than give up, she's expanding her focus. Penfield told me recently she looks forward to working more directly on matters of racial justice and police brutality. Today, she is speaking at a Stop the Violence prayer vigil with "faith, community and law enforcement leaders" who "will lead us in a prayer and share a commitment to justice, safety, respect and dignity for everyone," according to a press release.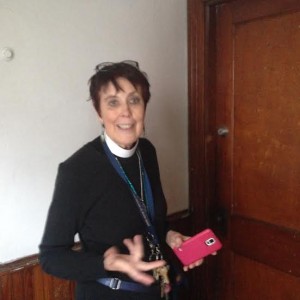 She said this tack is part of another new chapter for her.
"I think god is calling me to work with our white brothers and sisters, to help them become more aware of how we've unconsciously held onto our privileges," Penfield said. "Call it white supremacy if you will, that's really what it is."
But she isn't trying to shame anyone, not even the police officers she works closely with on these and other issues. In fact, she seems to approach the topic of police brutality with the same compassion and convictions that she practices with her Blessing Way work.
"I try to see every person as a beautiful flower," she said, "and maybe some of us just need some watering."