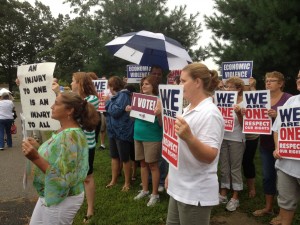 North Kingstown cancelled school today as a result of all school personnel striking in solidarity with the custodians whose jobs were outsourced to a private company earlier this summer.
About 70 school employees marched and formed a picket line in front of North Kingstown High School this morning, and plan to rally again tonight at a school committee meeting.
Several union members said negotiations ended with Superintendent Phil Auger ended at about 10:30 last night, even though they were willing to keep working towards a deal. School was not cancelled until 6:30 this morning. One parent at the high school this morning, a non-union member, said his family got the call just 15 minutes before the school bus was supposed to arrive.
Earlier this summer the school committee rejected the decision of an arbitrator that would have saved the district more than $1.3 million over the next two years and instead fired the school custodians and outsourced their jobs to an out-of-state company. Some custodians were hired back but at an approximately 30 percent cut in salary.
Teachers were not on the picket line this morning, but voted unanimously yesterday afternoon not to cross it either. While teachers voted to do so for at least two days, several union members at the high school this morning said they expect a court injunction will remand employees back to work as early as today.
Union officials said they will not ask members to defy a court order. Instead, they hope today's action will ignite the interest of the people, who may be more persuasive in changing school committee members' minds that union intermediaries have been.
Bill Mudge, a member of the school committee, has filed an Open Meetings Act complaint with the Attorney General's office and has implored his colleagues to come back to the negotiating table.
Here's a video of Nancy Ferencko, president of the education support professionals union in the North Kingstown school system addressing those on the picket line this morning:
VIDEO: Labor Strike Cancels School in North Kingstown

,