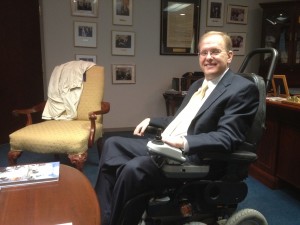 The Republican's ridiculously regressive federal budget proposal was narrowly approved by the GOP-controlled House of Representatives yesterday, with Politico calling it "essentially a political document that has no chance of being passed in the Democratic-controlled Senate."
And that's a good thing, considering Congressman Jim Langevin said in a statement after voting against the budget bill, "In Rhode Island, the impacts will be felt particularly hard."
And then he went into some detail:
"Nearly 14,000 seniors that have benefited from the closure of the Medicare Part D prescription drug donut hole would be affected and an astounding $2.9 billion in federal Medicaid funding would be cut over the next decade. For higher education, 2,440 fewer students would be awarded Pell grants and, overall, Rhode Island students would receive $12.7 million less in Pell Grant funding. The pain will be shared by early childhood and secondary education as well, with Title I support available to almost 9,000 fewer students and 550 Head Start slots eliminated."
Slashing Pell Grants and Head Start slots? This can't be what Rep. Paul Ryan meant when he told Politico, "It will cut wasteful spending." But then, he couldn't even get all the Republicans to support this bill; 12 instead stood with Langevin, David Ciclline and every other House Democrat in opposing it.
"At a time when Rhode Island is slowly pulling out of the recession, this budget pushes that progress back, protecting tax breaks and tax loopholes for corporations and millionaires at the expense of middle class families," Langevin said. "I am opposed to everything this budget stands for, including the gutting of investments in education, biomedical research and infrastructure."