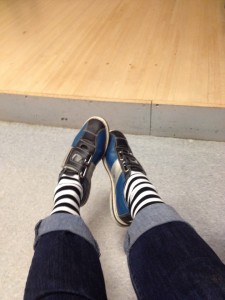 On Sunday, April 27, I had the pleasure of bowling at a fundraiser that benefits the  "Women's Health and Education Fund of Rhode Island." This annual bowlathon is part of a national campaign that funds abortion services for people who demonstrate financial need.  Anyone who needs abortion services should have access to them, regardless of financial state, location or any other of the many factors that keep pregnant people  from accessing necessary reproductive services.
If you clicked the national campaign link above, you will see that our little state is 9th (!) in ranking nationwide. This makes me happier than I can say. I am proud of this work; it is one of the most important things we can do to help people claim autonomy of their bodies and make personal choices regardless of access restrictions.
With a couple of new state bills proposed that would limit abortion access in Rhode Island, we have to take a critical look at our state's commitment to bodily autonomy and personal choice. The most infamous of these bills, proposed by State Representative Karen MacBeth of Cumberland, has been brought back and struck down every year for the past five.
Karen, move on. Forced ultrasounds are not informing people of the choice they are making. Abortions are a deeply personal choice and quite frankly, none of your damn business. This bill is an act of intimate violation of a person's body by the government. Every pregnant person has a right to decide what to do with their bodies without your interference.
With H 7303 and other bills like it creeping steadily into our legislation, we need to think about how we phrase our fundraising and work that we do in this state. "Women's Health and Education Fund of Rhode Island" feels like code. Why aren't we more transparent about the work we are doing? Why is the word "abortion" skirted around? If you visit the WHEFRI website, you see in clear language that these funds are going to abortion services. The more we use the word abortion, the less stigma there will be attached to it. I encourage the Board Members of WHEFRI to look deeply at the name and think about changing it to bring light to this important work under no cloaks or guises.
I'd also like to address with use of the word "Women." We have to recognize that abortion services need to be available to everyone, regardless of gender identification. In that I mean that not all people who need access to abortion services are women.  A transgender man may need abortion services. A non-binary person may need services. Keeping around terms like these may limit people's access to these funds. I do not mean to say that WHEFRI would ever discriminate against someone because of their gender, however I will posit that it may make a pregnant person who does not identify as a woman question whether they would have access to these funds. Inclusive language is something we need to address in the reproductive justice world; without it we are limiting who we reach. If we want all people to have access to abortions, let's work on how we present our mission and work.
As one of the biggest access funds in the state, we should be shouting loud and proud. Let's work on ensuring that all pregnant people have access to abortion services and that our work is recognizable as such. I want to make Rhode Island a forerunner for reproductive justice.