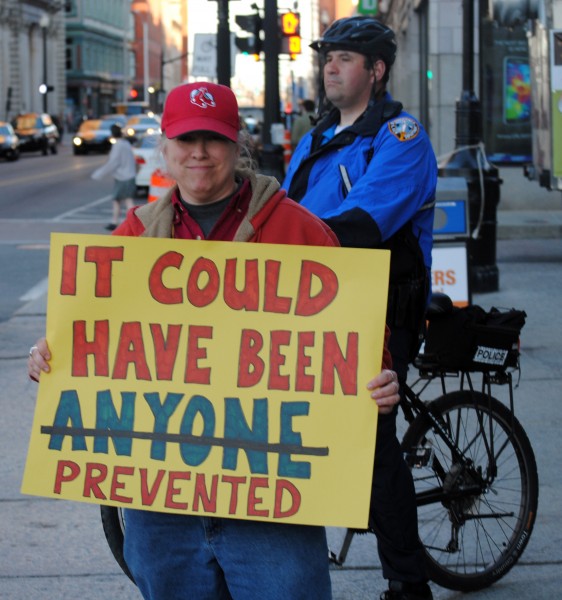 About 25 people assembled on the steps of Providence City Hall Saturday evening to protest an apparent hate crime that took place in and outside of Haven Brothers diner on April 26. According to a report on Channel 10 News, Joey Catanzaro was assaulted inside Haven Brothers and then asked to leave the premises. Catanzaro wanted to stay inside the diner until the police arrived, but maintains that he was threatened and forced outside, where "associates" of his attackers proceeded to beat him into unconsciousness.
"We want accountability," said C. Kelly Smith, one of the protest organizers. "I recommend that the LGBTQ and allied community boycott the Haven Brothers until such time as we get an explanation and justice for Joey."
According to another speaker, Catanzaro was unable to attend the protest "because he is suffering from severe head trauma," but that he was appreciative of the support from the LGBTQ community.
Former state Representative (and candidate for Lt. Governor) Frank Ferri was in attendance, and said that he has confidence that the police will bring justice for this crime.
Anthony Maselli lamented that a hate crime committed against a gay man in 2011 remains unsolved. "I'm not here to tell you that all the police are bad people," said Maselli, "I'm here to tell you that the police are not our public servants but are slaves to a system that is stacked against us."
Attendance at the Haven Brothers protest was undoubtedly impacted by the 500 person strong Black Lives Matter march that was happening in Providence from 3 to 6pm. Organizers are planning more events outside Haven Brothers in the future.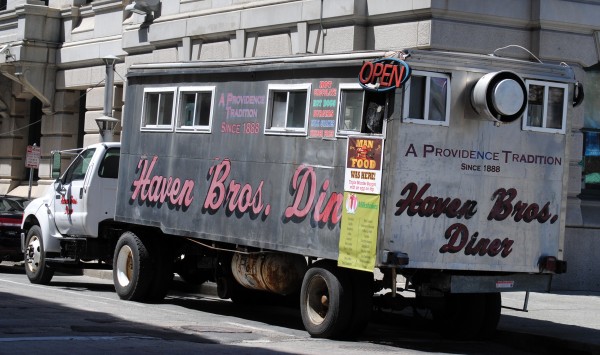 Haven Brothers is a Providence landmark. Established as a horse drawn restaurant in 1888, it is one of the oldest restaurants on wheels in the world. According to Channel 10 News, "One of the owners of Haven Brothers told NBC 10 News that he was told about the incident inside the trailer and was upset. He said he did not know that the victim was thrown out, even though he said he felt unsafe leaving the truck."
Tony Gugliotta of Channel 10 News reported:
[Joe] Catanzaro, 24, said he was being bullied for being gay, and as a result, suffered serious head trauma and other injuries.

"There were two guys in line making fun of me. They were making fun of my hat — it was a velvet red hat — so I stood up for myself, asked them why they were bullying," Catanzaro said.

That set one of them off, according to Catanzaro. He was attacked and choked by one of them inside the truck. Patrons pulled the attacker away, and Haven Brothers employees asked Catanzaro to leave.

"I told them I wasn't leaving the trailer until the cops came, and I was calling the cops. And one of the cooks from the grill came up to me with a butcher knife and said, 'Get the hell out of the trailer,'" Catanzaro said.

Catanzaro left and was met by several other associates of the men inside. They continued to beat him unconscious, and according to witnesses, didn't stop there — kicking him as he lay motionless on the ground before fleeing the area.
Thanks to Daniel Ciora for getting the video on this.