Prudence and pragmatism are perhaps the dirtiest words in politics, and I feel like nothing speaks to this problem more than our treatment of Governor Lincoln Chafee. I'm a big perpetrator, or at least have been until recently, of the acrid cynicism that propels apathy in the process and disgust in the people. This disarms any hope of informed working solutions to the perennial problems of governance – boring and complicated budgetary concerns fall victim to the emotional extremes of our ideology, doing little to advance what passes for public dialogue. I'll raise my hand and be the first to say I'm guilty of this kind of laziness.
I forget how I stumbled on this video of Linc giving a speech at the LBJ School of Public Affairs at the University of Texas, but here it is:
It is a long video, but its great if you want a quick take from Chafee's perspective on the recent history of our two major parties: the role of LBJ in scuttling the longstanding dominance of Democrats in Congress for the sake of the Civil Rights act, along with some interesting takes on the massive Bush tax cuts. This includes Linc being joined by John McCain in voting "nay" thanks to the sunset provisions that are considered by some to be fodder for campaign finance-oriented corruption. Prior to that, at the 6 minute mark, you can hear Linc defend the Occupy Movement. He goes on to talk of the realities of income inequality and other shibboleths you might appreciate. Even though he exaggerates the severity of the 2011-2012 winter, I can't help but be thankful someone didn't miss the overall point.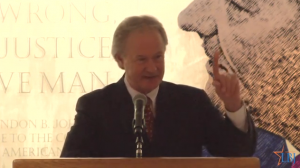 At 37 minutes in, the Governor misses a chance to respond to a question about the Rhode Island Primary Care Trust (perhaps he is not informed enough to hazard an answer.) For socialized medicine proponents, it is interesting to note that the UK's NHS has been going through some tough times under restructuring by the conservative coalition government, and are abolishing these same entities in a bid for privatization.
Since I don't expect many people to appreciate my love of Lincoln Chafee, I won't bother to defend him as a practicing politician. I'm hoping that he finds a nice ambassadorship somewhere, or some other dignified way to step out of the scrum that guys like us, with a bit too much empathy, simply can't survive.