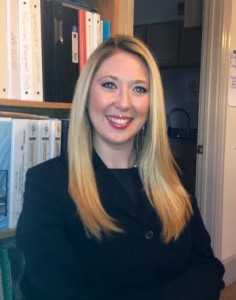 Progressive activist Margaux Morisseau, best known for leading the charge against payday loans in Rhode Island, is running for state Senate District 21, the seat currently held by Republican Nick Kettle.
"I am running because I want to be a part of the solution that helps improve our state for all people," she said. "With my background in small business and community development, I know I can bring people and resources together to work on creative solutions and actually get initiatives accomplished. District 21 deserves a public servant who is dedicated to improving communities and is passionate about helping people move up the economic ladder."
Morisseau is the director of Community Building and Organizing for Neighborworks Blackstone River Valley, a nonprofit Community Development Corporation which builds homes and communities for low-to-moderate-income families in Northern Rhode Island. She's also the founding director of the RI chapter of New Leaders Council, a national non-profit that works to train and support progressive political activists.
And she's already shown her political chops at the State House by going head-to-head with former speaker-turned-lobbyist Bill Murphy over payday loans.
On April 14, she is having a campaign kick-off event at the Corner Bistro in North Scituate (1115 Hartford Pike). You can support her campaign here.
District 21 includes parts of Coventry and West Warwick as well as Foster and Scituate, which is Morisseau's hometown. She lives in the Clayville hamlet which straddles Foster and Scituate.