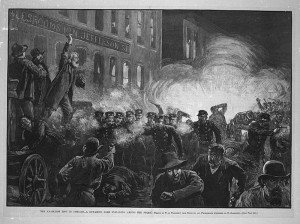 May Day, or International Workers Day, is a holiday celebrated in more than 80 countries around the world. But not so much in the United States, even though it started here and, for a brief time served as this country's de facto Labor Day – a holiday to remember and honor the working class and the struggles of organized labor to win employee rights and fair wages.
Eventually, though, the country settled on the end of summer to recognize labor, mostly because the powers that be didn't want the occasion to be forever linked to the events of the first May Day in Chicago of 1886.
For several years prior, labor unions had been calling for a national general strike on May 1, 1886 to lobby for an eight-hour work day. And they got one. More than 340,000 workers participated, and almost 200,000 actually went on strike. There were rallies of 20,000 people in New York, and 10,000 people took to the streets in Baltimore.
In Chicago, the epicenter of the fight for an eight-hour work day, some 40,000 workers went on strike and marched with local anarchists.
"Not surprisingly the entire city was prepared for mass bloodshed, reminiscent of the railroad strike a decade earlier when police and soldiers gunned down hundreds of striking workers," according to the International Workers of the World website. "With their fiery speeches and revolutionary ideology of direct action, anarchists and anarchism became respected and embraced by the working people and despised by the capitalists."
The protest lasted until May 4, when union members and anarchists met in Chicago's Haymarket Square. Tensions had grown to furious levels after two were killed by police the day before at a strike outside of the McCormick Harvesting Machine Company plant. Handbills were distributed calling for violence. Slogans included: "Workingmen to Arms!", "One pound of DYNAMITE is better than a bushel of BALLOTS!" and "Make your demand for eight hours with weapons in your hands to meet the capitalistic bloodhounds, police, and militia in proper manner."
As both police and protesters seemed to expect, a riot broke out after police advanced on the assembled mass and someone threw dynamite into the line of law enforcement officers.
"The villainous teachings of the Anarchists bore bloody fruit in Chicago tonight and before daylight at least a dozen stalwart men will have laid down their lives as a tribute to the doctrine of Herr Johann Most," read a now famous New York Times article under the headline "Rioting and Bloodshed in the Streets of Chicago."
Some 60 police officers and 70 protesters were injured with seven dead police and four dead strikers.
A bomber was never identified, and police brought conspiracy charges against eight organizers. The trial, Chicago v. August Spies et al, but better known as the Haymarket Affair, became well known for its miscarriage of justice. The convictions were appealed all the way to the Supreme Court, which didn't hear the case.
Of the eight defendants, seven were sentenced to death, four were actually hung and one committed suicide in jail before the sentences of the remaining two were commuted down to life in prison.
Before being hung in November of 1887, Spies, a central speaker that day in the Haymarket Square, is said to have said, "The time will come when our silence will be more powerful than the voices you strangle today."