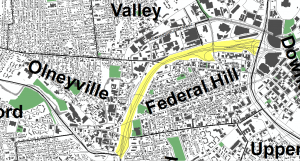 In theory, I think the idea of a 6-10 Boulevard has the potential to be a great project. However, knowing very well how capital in Rhode Island, particularly based around real estate interests in Providence, functions in a way that subverts all good ideas to benefit the rich and disenfranchise the poor, I would like to suggest to legislative steps that need to be taken so to prevent some major issues. To be absolutely clear, I have no ill will towards anyone involved in these efforts and wish them all the best in their efforts, I just also wish the best for the vast majority of people who will be effected by this project if it is actualized. I totally believe these two things are not exclusive and that a synthesis of the two is quite tenable.
Get rent control and community land trusts in place
This effort has a great chance to benefit the vast majority of poor black and brown people who overwhelmingly find themselves utilizing public transit and bicycles to get around. However, looking at the ethnic demographics of this effort's leadership and their website, I see a lot of white faces and not a lot of concern for the potential of this effort to serve as a vehicle for gentrification.
Last fall, I had the opportunity to go to Washington DC and spend an evening with my friend Ronnelle, a black gay man who went to RIC under the auspices of in-state tuition due to his DC residency. He has been in DC for decades and watched his home gentrified, jesting with me "First comes the gays, then comes the bicycles, then comes Becky with her baby stroller and then it is all over." Watching the migration habits of the hipster class in Providence is quite disturbing in how it mirrors Washington.
I have spent the past eleven years now watching "development" on Broadway and in the West End. In 2005 I started a high school internship at the Columbus Theater when Broadway was run down, dirty, and had a street that resembled the craters of the moon. By 2010 the street was repaved and business was coming back. But this entailed an ethnic cleansing of the neighborhood that continues. I do not want to see that further consolidated by this boulevard. The last six years have seen this further develop before my eyes.
There are many things that are possible to fight back against gentrification but the two major ones are institution of rent control and creation of community land trusts. They do not take much effort and have extremely valuable benefits for any effort because it indicates to these impoverished residents that you actually care about their plight and not just their taxes.
What about climate change?
In 2010, Rhode Island was inundated by massive flooding across the state. Warwick saw the Warwick Mall totally destroyed by the flood waters and the low lying Shaws supermarket on Warwick Avenue was ruined.


This happened because just adjacent to both sites is the Pawtuxet River. That flooding is going to happen more and more in the next decades due to climate change and the storms it creates. Are we going to have to worry about similar issues caused by the rivers in Olneyville? The Environmental Justice League has been doing some important work in the past few years that shows the neighborhood has some serious pollution issues. Let us also not forget that, as a post-industrial city, there are chemicals in the waterways and grounds that are not forced onto the roadway of the 6-10 connector because it is currently suspended in the air. The type of pollution forced onto such a roadway would not just be chemical, it would include the garbage thrown into these waterways. We need to be certain we have in place mechanisms that will help clean these messes up as they occur.
Get a Spanish language and grassroots presence
Looking at the current website, this effort seems totally based around the English language and white faces. I find this problematic because the communities surrounding the 6-10 connector are well-known for their civic engagement and community activism. The Olneyville neighborhood alone is one of the most vibrant Latino political centers in Rhode Island. It strikes me as odd to have an effort that is going to totally flip these neighborhoods upside down in terms of major commuter routes and it no se habla espanñol. Why not? This community could be one of their greatest allies. This speaks to a greater question, who exactly is asking for this thing? Are we seeing a movement of longtime residents who see this as another element of their emancipation or is it a tool of capital being advocated for by those who either do not know better due to their lack of seniority in community residency? I have tried to ask these questions in private correspondence with some and asked other activists about this effort. The first group have been rather unsatisfactory in their response while the second, composed of those who know everything important to know about issues important to the community, have never heard of this. Both are signs indicative of something that gives me serious pause and concern.
The notion of critical support is a posture which advocates for a cause while also suggesting positive adjustments that can benefit the majority. I want to see a 6-10 Boulevard that helps the many while not giving comfort to those who have failed the black and brown communities on the West End. Gore Vidal once quipped that we have socialism for the rich and free markets for the poor. I hope this roadway might invert that dynamic.