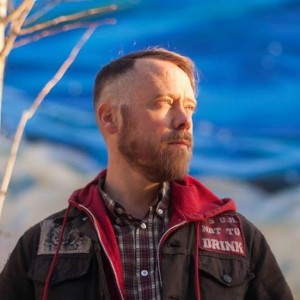 Lately I've been listening to 'Hamilton,' the hip-hop soundtrack to the breakout Broadway musical about founding father Alexander Hamilton, a rags-to-riches hero who led a revolution and helped form – for better or worse – a more perfect union.
Then I listened to Providence native Jared Paul's new album 'Get My Ghost' and realized his music is every bit as powerful, and it touches on many of the same themes. If Hamilton is a hip-hop story about the birth of our nation, Jared Paul raps about a rebirth – a second American Revolution, if you will, to form an even more perfect union than the one inherited from the founding fathers and subsequent custodians.
Take, for example, Paul's the second single from the new album '$8 Smoothie' – a pot shot at capitalism's exploitation and gentrification of health food.
He is definitely a different breed of radical than was Hamilton in 1776. But both activists fought for and wrote about a better economic model than the one they were born into.
"We sell organic fruits, but not to the poor," Paul sings in '$8 Smoothie'. "Gentrify the East Side, financial segregation."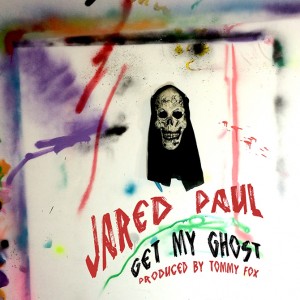 Jared Paul grew up in Providence and is a resident artist at AS220. He's long been known for his spoken-word performances, and the new hip-hop album feels like an extension, or a musical version, of those. In both mediums, Paul explores bluntly the failures of corporatism and capitalism.
"At the forefront of underground radical art for over decade, Jared Paul has toured relentlessly as a spoken word artist, emcee, and revolutionary organizer," according to according to Black Box Tapes, the Denver, Colorado hip hop label that released the album. "'Get My Ghost is the culmination of the last ten years of protesting, touring, and learning."
In 'Human Beings Migrate' the last cut on the album, he sings, "If my clothes are slave made, then I'm a part of their chains. We're all hypocrites, ain't no one free of blame… but I don't want that on my heart, don't want it on my name. Just want to live clean, there's got to be a way to erase the exchange: outsourcing oppression for the sake of convenience it's an unequal trade."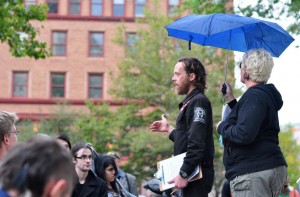 Like Hamilton, Paul doesn't only wax poetic about building a better society. Both actually went to battle for their politics. Paul was a key organizer of the Occupy Providence protests. He was among the most outspoken radical voices during the months long protests in 2011 and 2012 and was rarely far from the front lines of a march or direct action. In 2008, he was arrested outside the Republican National Convention and in 2014 he was part of what the New York Civil Liberties Association believes to be the largest protest-related police settlement in history for that arrest.
But 'Get My Ghost' isn't as overtly political. "This full length album showcases Jared's unique storytelling abilities, making it more of a rap-­album­-as­-memoir then a heavy handed political manifesto," according to Black Box Tapes.
'Five or Five Thousand' is an anthem about how "every choice counts," as Paul sings. "I go all in, whether five or five thousand."
There's a release party for the record on Tuesday, May 31 at Aurora in Providence. Between now and then, you should give the album a listen.
If you like 'Hamilton' you will love Jared Paul's 'Get My Ghost'

,