As RIFuture.org was preparing to re-launch, I was approached to write for this politically oriented blog. Understandably, I was a bit hesitant. What I care about seems less to do with politics and more about creativity despite one's own political environment.
When mulling this decision over, I considered a column that was less about marking a line in the sand one way or the other politically speaking, but dedicated more to uncovering the people with whom I come in contact with every day; who have chosen to make Rhode Island their home (long-term or at the very least, for the time being) and are at the core of why I (and others) have chosen to call this place our home, too. That's what MyRI is all about.
"In political practice, cities are often sites of collective self-determination, but contemporary thinkers fail to theorize in ways designed to provide informed judgments about what's good and what's bad about urban pride, the idea that residents of a city are proud of their way of life and struggle to promote its particular identity. Patriotism today refers to national pride, but what about feeling proud of being a member of the (Jerusalem, Beijing, Montreal, etc.) community? We nominate the word civicism to express the sentiment of urban pride." 

–Excerpt from The Spirit of Cities by Daniel A. Bell and Avner de-Shalit
This column is as much about civicism than anything else; a word, which looks and sounds a lot like its nemesis, cynicism (the scourge which inhibits our creative actions, evolutionary change, and ultimately our own economic and cultural sustainability). So let's hear it for our civicism!
JERRY THE BEAR & THE LAWS OF ATTRACTION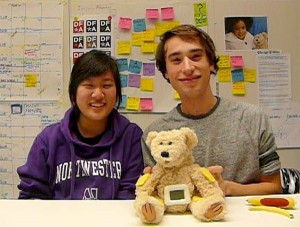 I first met Aaron Horowitz in 2010. He and I were both attending Providence's acclaimed A Better World by Design conference (now in its fifth year) created by students at Brown University and the Rhode Island School of Design. I subsequently connected with Aaron again at the 2011 edition of that same conference, and most recently at Brown University this past summer during the Dell Social Innovation Fellows program coordinated by the Swearer Center for Public Service in partnership with the University of Texas-Austin.
Aaron struck me as a creative young man with a great head on his shoulders, who had seemingly unlimited potential. Even though he was living in Chicago, he kept finding excuses to come back here. That's why when he told me that he was planning to move to Providence from Chicago to launch his new venture, Jerry the Bear, during his final semester at Northwestern University, and he is bringing fellow student and business partner, Hannah Chung, with him I was ecstatic. This is the kind of talent a place (any place) would be happy to have. So why did they choose Providence?
Horowitz explained their reason to relocate here from the Windy City this way:
"A young entrepreneur who spends any sort of time here will see the magic of this place. You have an incredible asset in having a highly networked web of established professional and academic mentors who play an extraordinary role in assisting ventures like ours. The amount of support we receive from this community will undoubtedly lead to an expedited path for our venture, and that is extremely important to any entrepreneur. If you are a young entrepreneur, in particular, looking to build the foundational skills needed to succeed, then this is the place to be."
Last Saturday alone, Horowitz and Chung also experienced the hustle and bustle of the winter's farmer's market held at Hope Artiste Village in Pawtucket, then took in the coastal sights in Narragansett later that same (unusually warm winter's) day. Reminding us all that you are never very far away from unique attractions and destinations here; showcasing the QOL (i.e., quality of life) attributes that Rhode Islanders cherish so dearly, which didn't go unnoticed by these new immigrants.
They recently applied to be accepted into the next Betaspring (the mentor-driven startup accelerator based in Providence) class beginning in early February. [Please note: Their next phase of work will involve interviewing youngsters under the age of 10 who have Type I diabetes to further refine their prototype of Jerry. So, if you know any families that may want to participate in these discussions please don't hesitate to reach out Aaron and Hannah at info@JerrytheBear.com.]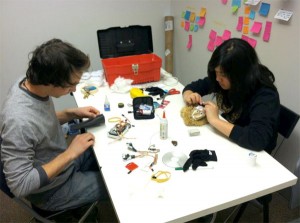 The lesson to be learned from this entrepreneurial equation is that if given the ability to share with the world's pipeline of talent, we can compete on a regional, national and even global stage to attract and retain such talent. The more activity coming out of here will lead to more success stories and even more talent coming (and possibly) staying here. Our global competitive advantages are our colleges/universities, and the faculty and students occupying those hallowed halls, our burgeoning entrepreneurial community, our critically acclaimed arts and cultural scene here (which serves a significant role in keeping people interested, entertained and inspired), but above all our growing reputation as the premier mentorship destination; something money cannot buy.
Providence (and Rhode Island) civicism should not only be taken seriously, but should be the foundational core of any real talent retention and attraction efforts moving forward. It is our "secret sauce," not to mention a global differentiator, which allows us to stand out as a true leader rather than a place that is continually looking for its own identity into the 21st Century. Thanks to Aaron and Hannah for reminding us what this place is really about!
And don't forget, if you see them around town, please introduce yourselves to them and ask about their latest adventures here; and of course, show your civicism by seeing what it is you can do to help this dynamic duo out. You may just be helping retain and attract top talent here.
MyRI: A Journey to Expose Creative, Cool People in the Ocean State

,