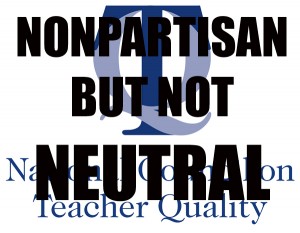 I was one of many readers of an article by Linda Borg, "R.I. wins high marks for use of teacher evaluations" in the Providence Journal.  The article is about a report by the National Council on Teacher Quality (NCTQ) and lists the many ways—about six—that Rhode Island uses information based on teacher evaluation to improve education.
I follow teacher evaluation and as I read the article I felt a growing dissonance: an earlier article by Linda Borg ("High evaluation ratings for most R.I. teachers problematic: October 11) had reported problems with the evaluation system.  A former colleague, Chariho Superintendent Barry Ricci, said in that article "It's not teachers being easy on themselves; it's the [evaluation] tool that needs further refinement."  He went on to say the evaluations place too much emphasis on test scores and student-learning objectives.  "There are many factors," he said, "that play into test scores that are beyond the control of a school, such as absenteeism, tardiness, study habits."
Then I recalled an even earlier article, also by Linda Borg, reporting that a large proportion—over 80%–of the teachers in Rhode Island thought the teacher evaluation process was "punitive."
I thought it was interesting that NCTQ could do research on teacher evaluation in Rhode Island and not mention issues that had received considerable local attention, so I looked into who they are and the methods they use.  Borg characterizes NCTQ as "a nonprofit, nonpartisan research and policy group."
But when I went on their website, another story emerged.  It says NCTQ "was founded in 2000 to provide an alternative national voice to existing teacher organizations and to build the case for a comprehensive reform agenda that would challenge the current structure and regulation of the profession."  In other words, they are advocates for an agenda, so they can hardly be called non-partisan.
But what is that agenda?  If the report was written through the lens of their agenda, then whatever parts of the Rhode Island teacher evaluation policies agree with their agenda would be good and whatever parts didn't agree would be in need of improvement. It's an old game for partisan organizations—set your own standards, make judgments according those standards, then publish the results as if the standards had national standing and weight.
So it's important to know more about the standards used for the study. Again, looking at their website, I found the report for Rhode Island and, printed on a single page, were "yes" or "no" answers to eleven questions that look a lot like standards. "Yes" was always the right answer to these questions: Rhode Island had six "yes" answers, which put it "pretty far ahead of the pack," according to Sandi Jacobs, council vice president.
The questions all had to do with the ways in which Rhode Island uses the information from its Teacher Evaluation System. For example, does Rhode Island use teacher evaluation information to determine tenure, professional development, improvement plans, or compensation? (yes, yes, yes, and no)  Every time there was a "no", the report made a recommendation for improvement (for example, "Develop compensation structures that recognize teachers for their effectiveness").
No way is this report based on research–it's based on a survey, probably filled out in the Commissioner's office and, as such, has no chance of unearthing the kinds of issues associated with the evaluation system mentioned by Barry Ricci.
Where does the NCTQ agenda come from?  I looked up the NCTQ's Board of Directors, as I always do to try to get a feel for an organization.  There I found Dr. Chester "Checkers" Finn, a man with an interesting resume.  He is currently the president of the nonprofit  (conservative) Thomas B. Fordham Foundation, a senior fellow at the (conservative) Hoover Institution, former Research Associate at the (very conservative) Brookings Institution–well, you get the picture, a major conservative player on the education landscape.  The part I like best about Chester's resume is his membership in The Committee for the Free World, a defunct anti-Communist think tank.  There he rubbed shoulders with the likes of Irving Kristol, Donald Rumsfeld, and George Will.  It turns out that it's no accident he's on the NCTQ board—NCTQ was founded by the same Fordham Institute where Dr. Finn is president.  This feels like a form of brand laundering by Fordham.
Beyond Chester, there is a Chair who, as a democrat, supported a school voucher program in Colorado that was later ruled unconstitutional.  As she said, she was trying "to figure out as a parent what would you do if you suddenly found out that your child was 30 points behind middle-income kids and your child's school had been failing for 20 years".  Interestingly, the solution of trying to build up schools so that they could provide an education equivalent to "middle-income kids" never seems to have occurred to her.
The President, Kate Walsh, received substantial funding from the Bush administration to get "positive media attention" for NCLB. The product of this grant was three op-eds.  This practice was suspended because the U.S. Department of Education is not allowed to expend funds for propaganda, but it seems Kate is still publishing propaganda.
The Vice Chair, John Winn, put Florida's A-Plus plan into action as Education Commissioner under Jeb Bush, and is currently serving as the Florida Department of Education interim commissioner under Governor Rick Scott. Enough said.
At this point, it was clear to me the agenda that drives this organization is the same pro-corporation, anti-union agenda that drives so much current education "reform".  This agenda vilifies teachers and teacher unions and replaces teaching with scripted curriculum wherever possible.  It is backed by IT corporations, hedge fund operators, publishing companies (Pearson is big), testing companies (Pearson is big), among others.  Who else?  Well, major funding ($200,000 and above) for NCTQ comes from the Bill & Melinda Gates Foundation and the Eli and Edythe Broad Foundation, along with many other foundations I haven't heard of.  Who else? How about Chiefs for Change, Jeb Bush's band of ultra-reformers? And we see on the endorsing list of Chiefs for Change a familiar name, Deborah Gist, the Rhode Island Commissioner of Education.
At this point things come full circle and begin to make sense: Deborah Gist endorses the agenda of NCTQ and NCTQ uses its agenda to "evaluate" the Rhode Island teacher evaluation system that Deborah Gist is building.  Commissioner Gist gets a nice pat on the back, supplied by Linda Borg, for whatever parts of the agenda she's implemented and, for whatever parts she hasn't implemented, she gets told to implement them, ASAP!  It's a "heads I win, tails you loose" set up, not a research report by a non-partisan organization.
All of this took me a day to uncover, think through, and write up.  When things are transparent, the game the NCTQ is playing seems childish—one can picture a grinning Chester Finn high fiving a jubilant Ann Walsh over this article.   But without transparency, this report seems like a legit deal. I wonder about the role of the reporter in all this.  Do we expect our reporters to take a day to uncover facts and think things through before they publish a story?  As this article shows, it would be a different world if they did.
NCTQ: 'nonpartisan' doesn't describe its bias

,