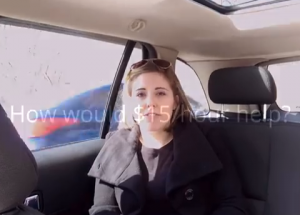 Nicole Ward, a certified nurse assistant at Greenville Skilled Nursing & Rehab in Smithfield, gets paid $13 an hour. It's not enough, she says, to support her two daughters, ages 9 and 7.
"Trying to provide for them on $13 an hour is not easy," she says in the latest Caregivers Rising video from the SEIU 1199NE, the labor union that represents 4,000 health care workers in Rhode Island and is advocating for a $15 minimum wage. "Certain bills I have to push back, maybe a month or two. It just seems like I'm not balancing everything with the pay that I have, it's just not enough."
The video series is timed to coincide with local political efforts to make structural changes to Medicaid that could affect front line health care workers like Ward.
"It's time that our society shows that we truly value the work that our caregivers do each day," said SEIU 1199NE Executive Vice-President Patrick J. Quinn.  The compassionate care they provide needs to be recognize by the state and employers in the form of a living wage."
He added that health certified nurse assistants in Rhode Island like Ward earn on average less than her counterparts in Connecticut and Massachusetts.