Steve Norris, a 72-year-old retired professor from North Carolina, told me on Saturday about his fast at the Federal Energy Regulatory Commission (FERC) in Washington, DC.  He was doing surprisingly well, he said, 12 days into his fast and having lost over 10 pounds.  One of the first things Steve asked me was if I had read Lee Steward's testimony:
To fast is absurd. This is true especially for someone like me who doesn't believe anything absent systemic, revolutionary change will do much good.
Yes, I had read Lee's testimony; it sums up my feelings.
This is what Steve wrote about his experience occupying the Sidewalk at the FERC Gates of Hell:
Being here, eating no food for 18 days, has taken me down a fascinating and disorienting rabbit hole, where "normal" appears absurd and even suicidal, and where unrealistic may be our only way out. I recall hearing Starhawk saying something like this many years ago. "The time for reasonable is past," she said. But I have struggled to make sense of this. The fast is a journey into unreasonable.

The other day was hot on the sidewalk in front of FERC, I was talking with a guy I dislike – he dominates conversation and is loud and bombastic. He mentioned something about money in the middle of our conversation, but I got so tired of him after 15 minutes I got up and, so as not to appear impolite, distributed fliers to passersby on the sidewalk. He continued talking to another faster, but when he decided to leave, I asked if he was serious about donating money. He hemmed and hawed, but we talked for a minute about the $1000 BXE wanted to give to Lincoln Temple, the very poor African American Church which generously has been providing us space for sleeping. He left, and I forgot about him. But half an hour later he returned and gave me an envelope with $1000 in cash. "Use this for whatever BXE needs." We've given it to the minister of Lincoln Temple.

On Thursday twenty year old Berenice Tomkins, a college student, went into the "open" FERC commissioners meeting, which does not allow public comment. The five polished FERC Commissioners are the corrupt decision makers in this powerful regulatory agency which makes life and death decisions for communities and people all over the country. Most of us are not allowed entry because we have disrupted meetings in the past, but this was Berenice's first time, so she got in. She wasn't sure what to do and waited through the incomprehensible conversations of the Commissioners, which in a coded language talk about decisions already made behind closed doors. When they started talking about forest fire mitigation she could no longer hold her tongue. She stood up and with a twenty year old's strong voice took over the meeting: " What are you talking about? It's your policies which are creating the climate crisis, and you can't mitigate the fires without talking about the climate crisis!" She talked for a minute or so until until FERC Security grabbed her arm and dragged her out. She was crying and proud as she came out.
The brave people of BXE need our love and support, they and all others who put their lives on the line to expose the ecocidal and communicidal crimes of our federal and state governments in support of their sponsors on Wall Street: No New Fracked-Gas Power Plant in Burrillville, RI!

Please join us at the People's House in Providence tomorrow—come and hear the what motivates some of our local fasters in Rhode Island.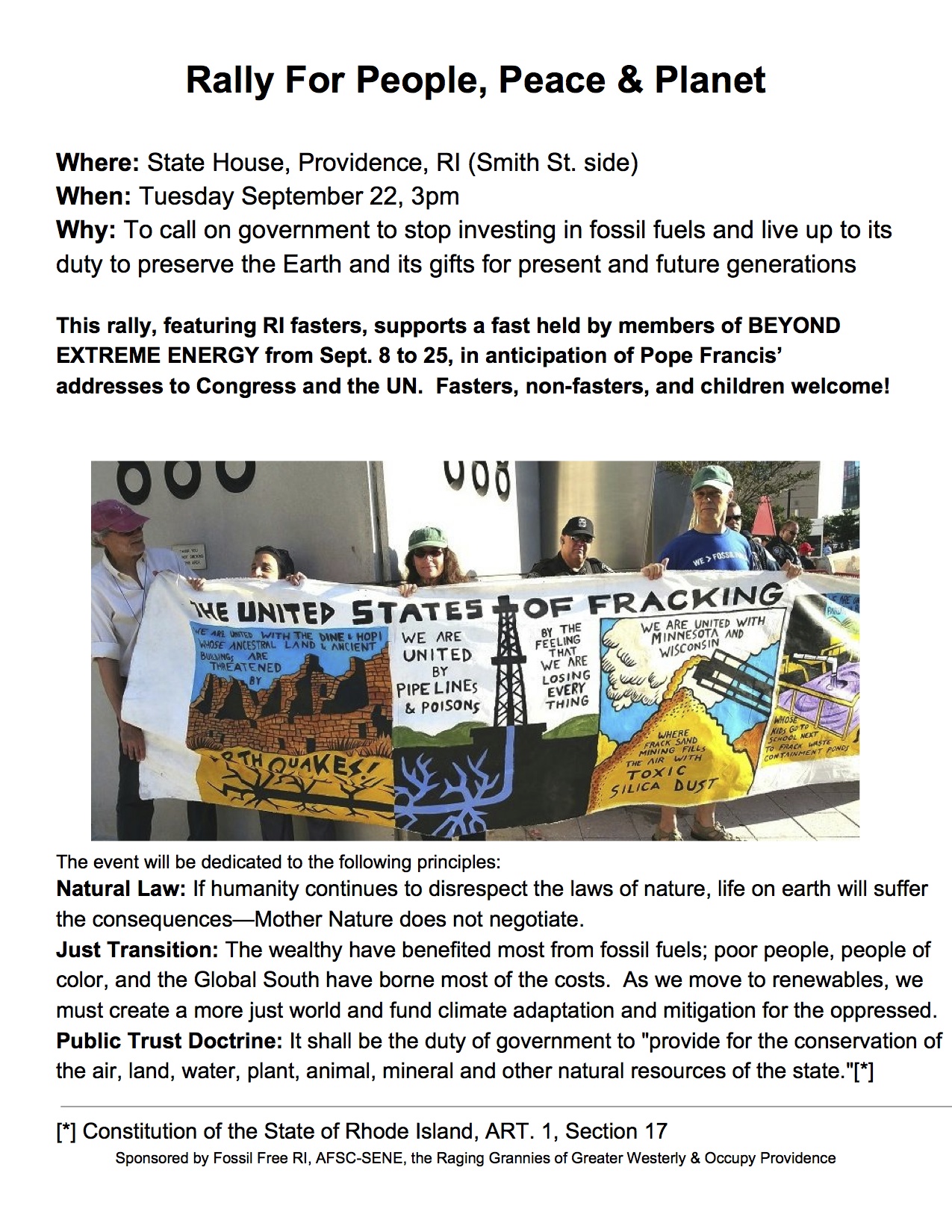 Help us avoid this:
The paper reeds by the brooks, by the mouth of the brooks and everything sown by the brooks shall wither, be driven away, and be no more.
Maybe it's not too late yet.