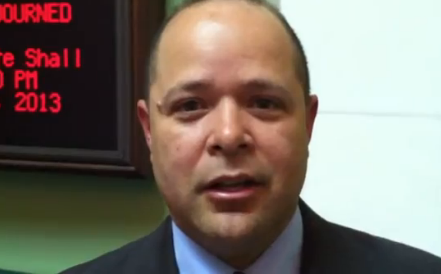 Governor Gina Raimondo may have acted too hastily when she took off the table the idea of transforming the 6/10 connector into a boulevard, according to Providence state Senator Juan Pichardo.
"The people who live in these areas were counting on the plans to reconnect the neighborhoods after being divided for so long by the highway," Pichardo said in a recent news release. "This is a decision that will have a major impact on the daily lives of many people, and I'm concerned that it was made too hastily."
Pichardo's press release referred to the boulevard proposal as the "plan to reunite the neighborhoods."
He said, "The benefit this project would have on the people in these neighborhoods just cannot be calculated. It's rare that a government proposal gets this kind of support from the community. This project would have gone a long way to making the city more inclusive, ending decades of disenfranchisement that have been brought about in these neighborhoods. It's more than a little disconcerting that something so positive for the whole city could be so quickly and so arbitrarily dismissed at a moment's notice."
Transportation advocates have been pushing to transform the 6/10 connector, which is in desperate need of repairs, into a boulevard – as other American cities have done when highways that cut through urban neighborhoods have needed major repairs. Providence Mayor Jorge Elorza is supportive of this concept. RIDOT is not. Last week, Raimondo said the overpasses are in such dire need of repair that the state cannot wait to consider the boulevard idea.
"I truly hope the state will reconsider and take into consideration the concerns and desires of an entire community, instead of repeating the mistakes of decades past by recreating a citywide scar on the landscape that has such a negative impact on the lives of so many."
While Gov. Raimondo made remarks at a recent RIC event signaling her openness to accept any proposal that was safe, affordable, and not a traffic problem, a later statement through a spokesperson doubled down on her commitment to rebuild the highway as-is, with the caveat of adding a bike lane (on a highway?), building an additional ramp (i.e., expanding the highway), or putting in Bus Rapid Transit (part of both the RIDOT and City of Providence proposals).
Providence Planning will continue to take public feedback at 610Connector@providenceri.gov.
On 6/10, Pichardo says people want 'plan to reunite the neighborhoods'

,