Dear Barack Obama, Joe Biden, Jack Reed, Sheldon Whitehouse and Jim Langevin,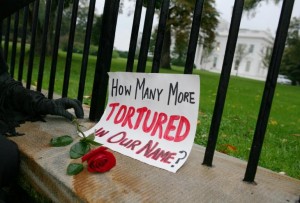 You are the people I voted for to represent me at the federal level of government. And because I participate in this democracy, I authorize the federal government's actions. I bear some responsibility, one vote's worth, for everything done by the United States.
Therefore, I must say to you, in the strongest terms possible, don't torture in my name.
I have felt shame and remorse for years now at the torture perpetrated during the Bush administration. I greeted Obama's directive to end torture with relief. However, we now have the official report on torture from the Senate and we also have the reactions to that report from streams of torture apologists. It has become clear that much more must be done. Just because the monkey is off your back, it doesn't mean the circus has left town. There is a culture of torture that must be dealt with.
Here are some things I'd like you to do. Phrased another way, here are some things you will do if you want me to keep voting for you. (Barack, in your case, here are some things you will do if you want me to donate to your post-presidency foundation.)
Dianne Feinstein is a national hero and every one of you should go out of your way to state so publicly. Get your picture taken with her at every possible opportunity.
Never use the phrase enhanced interrogation techniques. The person who controls the language of the debate wins. Here is what happened: some kid got picked up in the desert and taken to a secret prison. He was not charged with anything. He did not go to trial. There was a one in five chance that even his captors would admit to having taken him in error. He refused to eat his dinner. His captors put his food through a blender, anally raped him, and squirted puréed humus and crackers up his rectum. This was done to "exert total control over the detainee" and induce a condition of "learned helplessness." This ain't enhanced nothing. Never use that phrase again.
Don't engage in the debate about whether torture produced good information. It doesn't matter! I don't want some guy water boarded in my name even if he gives up Bin Laden's home address. If evil people get you to be evil, they win.
Identify anyone who thought up, authorized, signed off on, contracted for, wrote memos in support of, opined on the legality of, or in any other way brought about the culture of torture. Give them a chance to come clean and admit their culpability. If they don't, prosecute them. I'm talking about a Truth and Reconciliation type procedure. Propose it, sponsor it, push for it.
Bruce Jessen and Jim Mitchell are the two "psychologists" who had the major contract for interrogations during which detainees were tortured. They were paid $80 million of my dollars! Get it back. They took it under false pretenses. Denounce them as sick bastards and war profiteers. Do this loudly and frequently.
Fire John O. Brennan. Hey Barack, Joe, doesn't this guy work for you? Did you see him go on TV from inside CIA headquarters and totally contradict your anti-torture stance? Didn't you feel a little disrespected? How come you're letting him keep his job? How can the culture of torture be ended at the CIA when the director is a torture apologist? Wait a minute… When you say you are anti-torture, you mean it, don't you?
Identify and acknowledge all the people who resisted torture in the middle of this despicable situation. They are national heroes. Give them the Medal of Honor.
There is a guy named John Kiriakou who is currently serving time for bringing torture to the attention of the press back in 2007. He was prosecuted in 2013 and sent to prison. Ah… excuse me… Barack and Joe, weren't you guys in office in 2013? Are you sure you mean it when you say you're anti-torture? Pardon John Kiriakou. Apologize to him. Compensate him. Is one to laugh or cry at the irony of this man, who has five kids, being locked up while Dick Cheney is free to rant and rave on Fox News?
So, Barack, Joe, Jack, Sheldon, James, that is my to do list for you. I know you got a lot on your plates, but, in terms of the soul of this country, there are few things more important than making sure nothing like this ever happens again.
See you at the polls.
Your constituent,
John Kotula
P.S. Obama, Nice job on Cuba!
Open letter to federal govt: Don't torture in my name

,