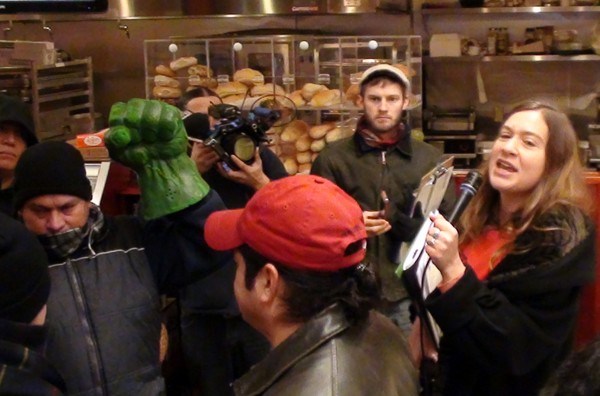 Supporters, activists and former employees stormed Gourmet Heaven, an upscale deli on Weybosset Street in downtown Providence Friday. They say employees are owed more than $100,000 in back wages, as is the case at Connecticut delis under the same ownership.
The protesters entered the Providence deli at noon and temporarily stifled the business to the consternation of the manager on duty. "Get out!" she yelled.
"We'll leave when you pay your workers what they are owed," replied one of the protesters.
"What you're doing is illegal," said another.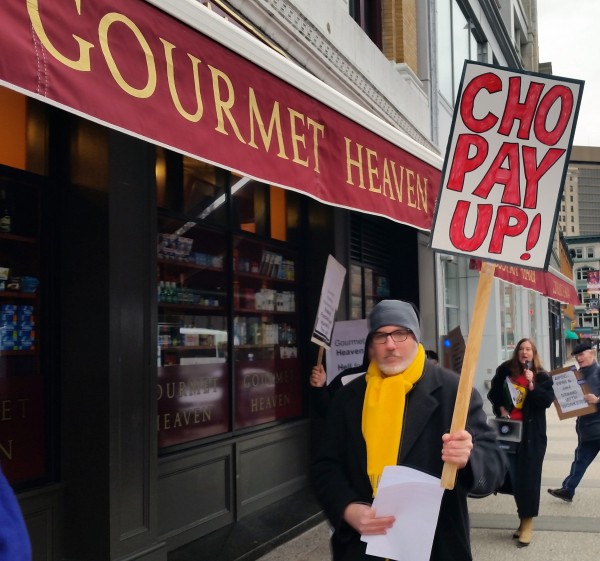 Gourmet Heaven is owned by Chung Cho, and he runs two other Gourmet Heaven outlets in New Haven, Connecticut. There was also a Gourmet Heaven on Meeting Street here in Providence, but it recently closed. In New Haven, Cho has been charged with "42 felony and misdemeanors" for wage theft, and was "arrested twice for discrimination and retaliation related to these claims."
Labor activists here say Rhode Islanders are owed more than $100,000 in minimum wage and overtime pay. Phoebe Gardener, organizer at Fuerza Laboral, a workers' rights center in Central Falls, has filed claims here in Rhode Island for seven workers.
After about five minutes of protest inside Cho's downtown deli, the Providence Police Department arrived and the protesters left the store. But they continued to picket and chant outside Gourmet Heaven on the Weybosset Street sidewalk for the next hour, seriously impacting business. Flyers are distributed to passersby explaining the reason for the protest.
This protest was marked by excellent, artful signs and a few fun touches such as a rat mask and Hulk gloves.
In Connecticut, Cho reached an agreement with the Department of Labor to pay $140,000 in back wages to 25 workers, but has so far not made his payments in a timely manner. There are reports that the New Haven stores are in the process of closing.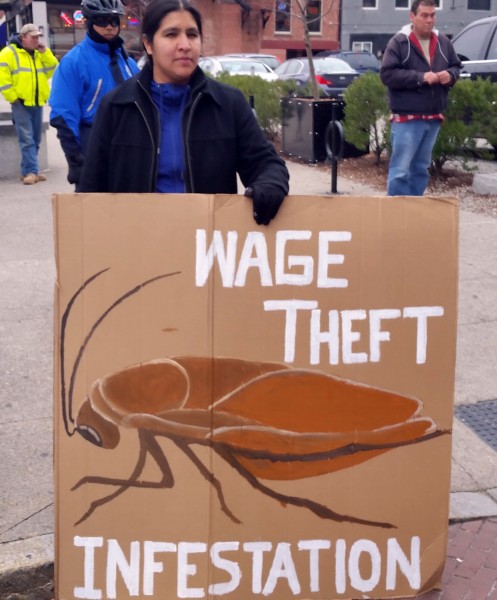 In November, Mohamed Masaud, manager of Weybosset Street Gourmet Heaven, claimed that there were no such violations going on in Providence.
Gardener and Jesse Strecker of Rhode Island Jobs with Justice, claim to have found ten workers who are owed thousands, or even tens of thousands of dollars in back pay. All told, it is asserted that over $100,000 in minimum wage and overtime pay is owed to workers here in Rhode island.
"I worked grueling 84 hour weeks, 7 days a week, 12 hours a day on the night shift, from 7pm to 7am," said Pedro Us in a written statement, "For all that work, and on the night shift, I was paid only $360 a week, way below minimum wage and with no overtime."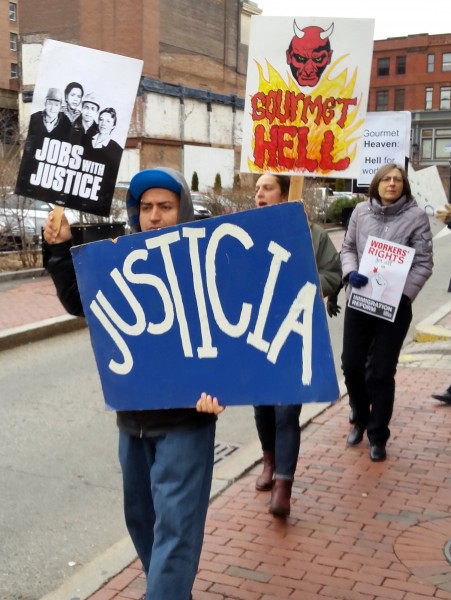 Pedro Guarcas worked, at both the downtown and Meeting St locations of Gourmet Heaven. Guarcas claims that while on the job, he suffered workplace injuries and physical abuse.
"The managers pressured us to work so fast that I slipped and fell down the stairs twice and hurt my foot badly. This past April, the kitchen supervisor… punched me in the stomach when I was taking out the trash, but when I reported it to the store manager, he didn't do anything about it."
Guarcas claims that he worked 72 hour weeks for less than $400 a week, a paltry $5.50 an hour and well under Rhode Island's minimum wage. Guarcas did not file any complaints because he has "a family to feed and it is hard to find another job." Now that he no longer works for Gourmet Heaven he is speaking up in the hope of collecting his lost wages and because he wants justice.
Guarcas and another former Gourmet Heaven worker from Rhode Island, as well as a former worker from Connecticut, spoke at the protest. In addition George Nee, president of the RI AFL-CIO, James Riley, Secretary-Treasurer of UFCW Local 328, Providence City Councillor Carmen Castillo and union organizer Marino Cruz, recently dismissed from his job at the Providence Renaissance Hotel for his unionization efforts also spoke briefly to the protesters.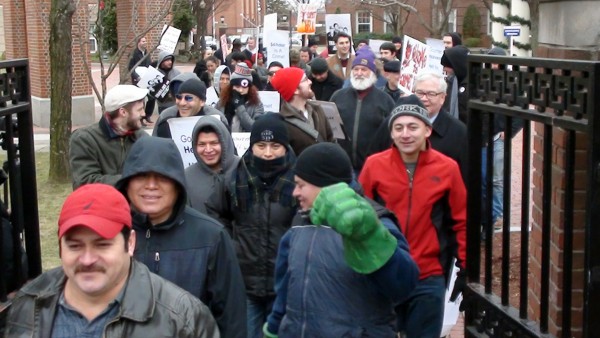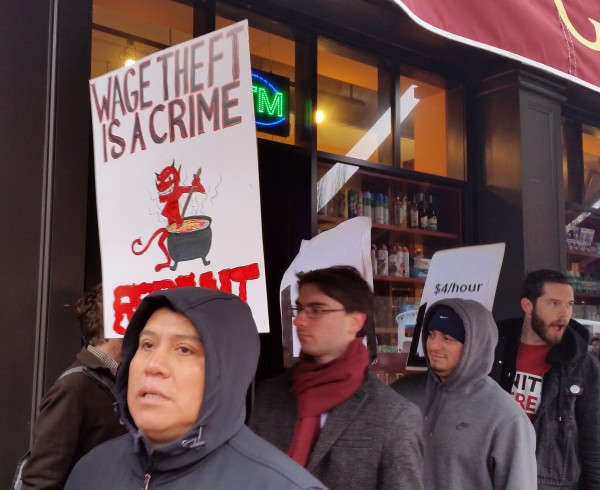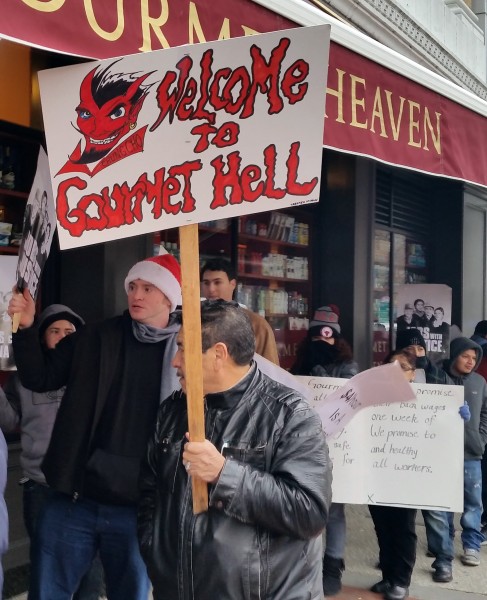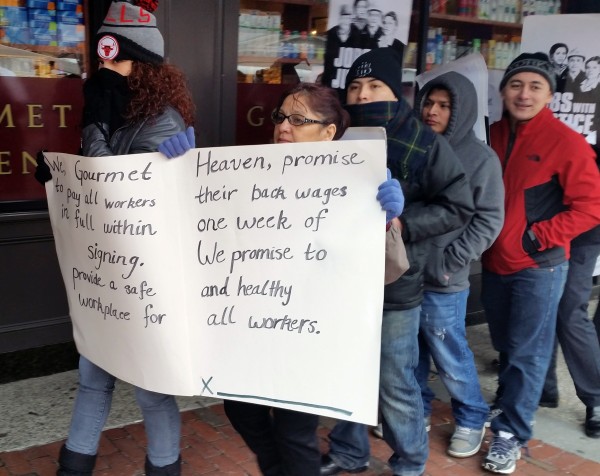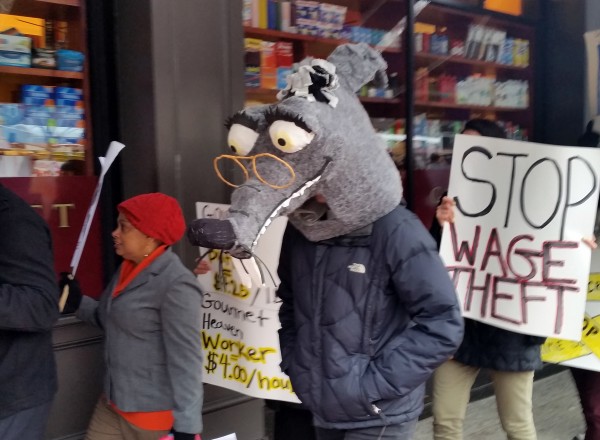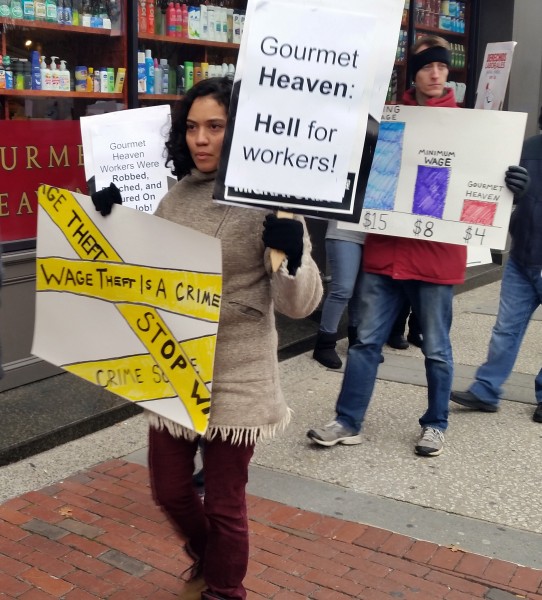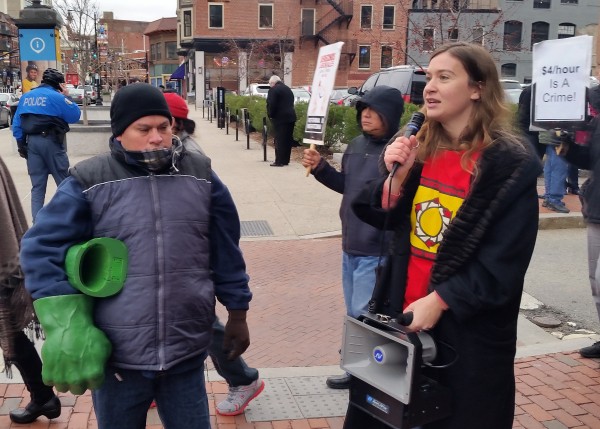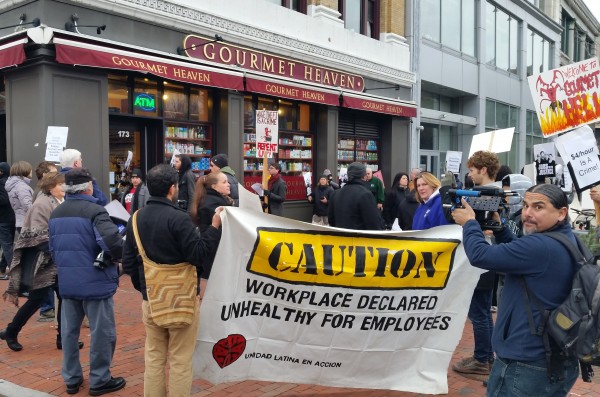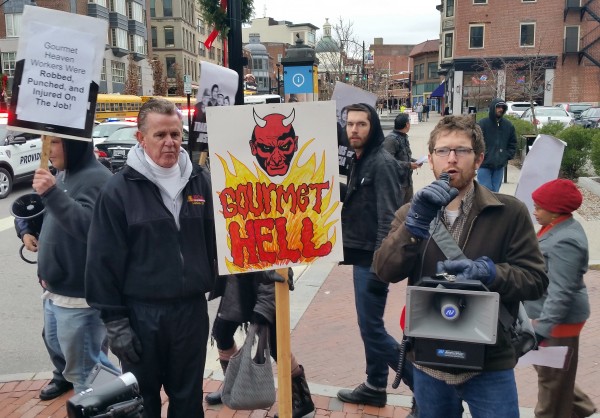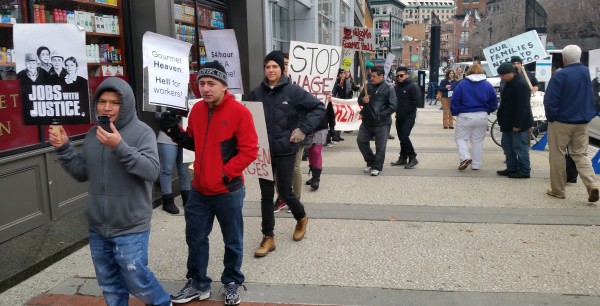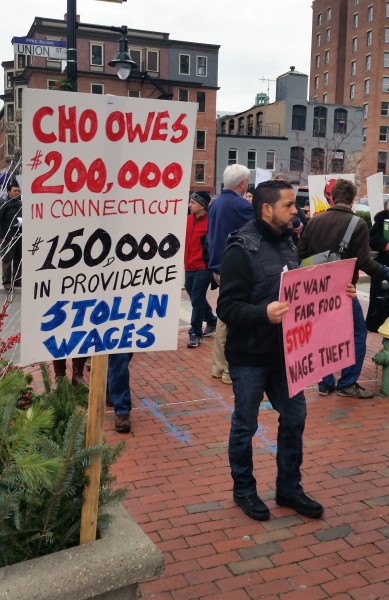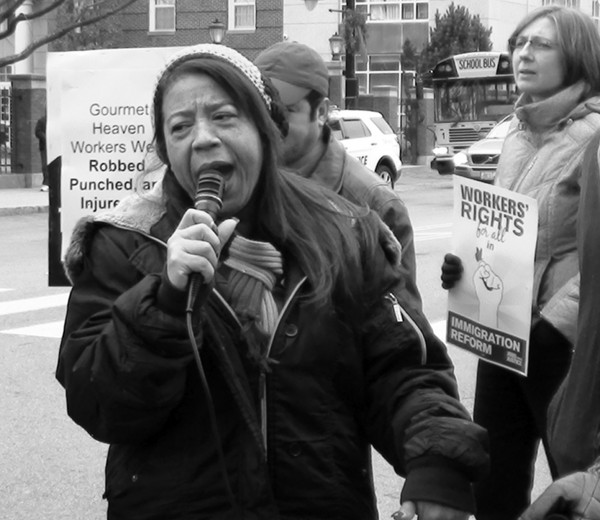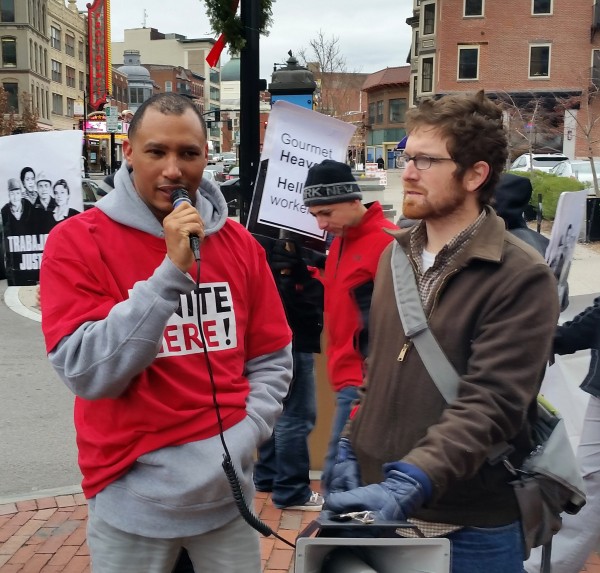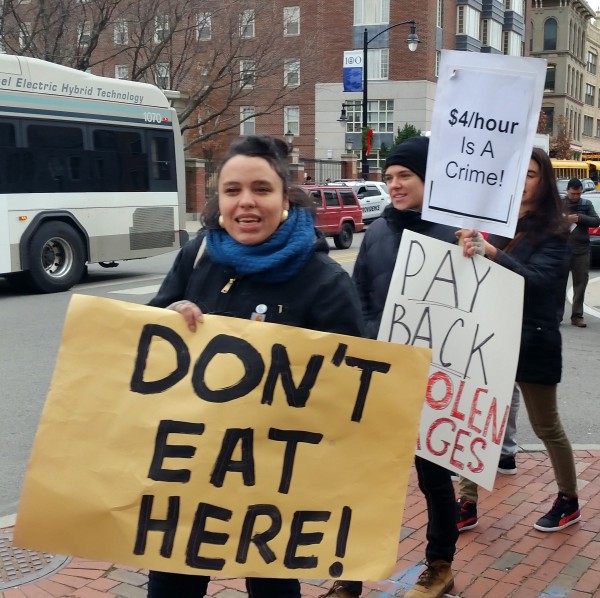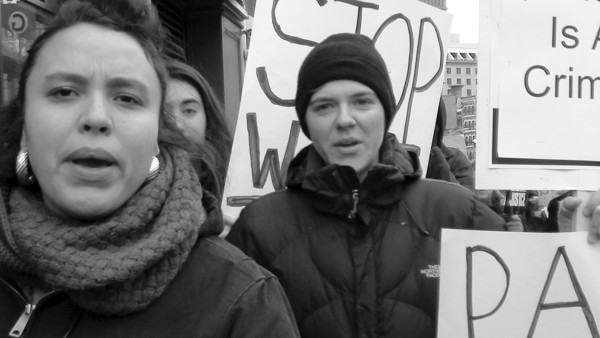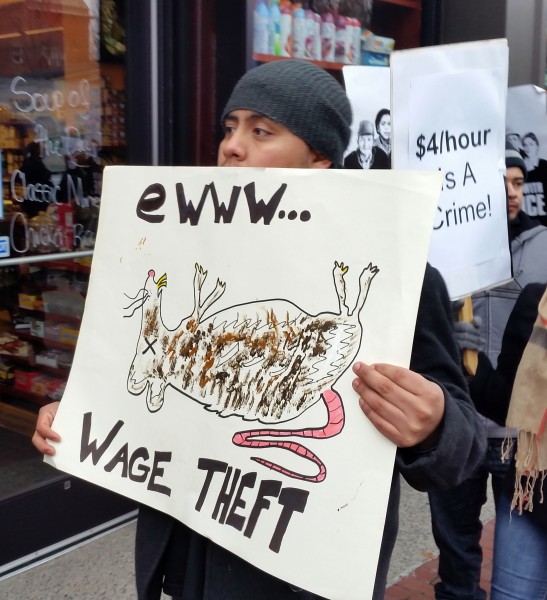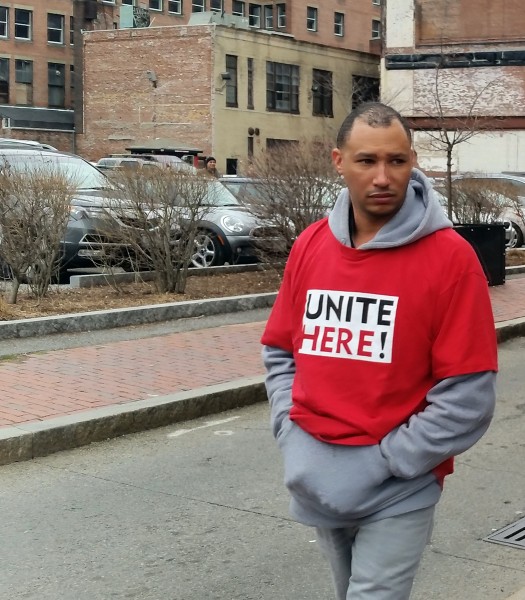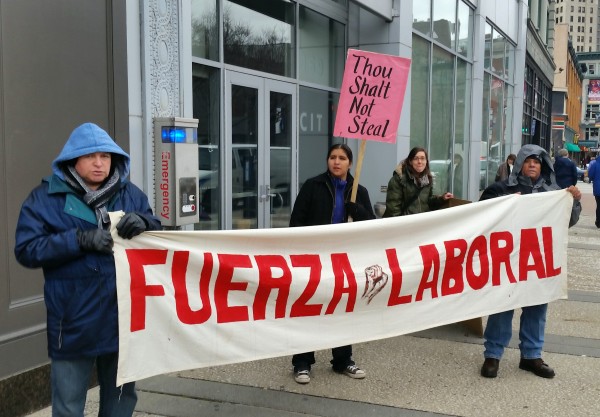 ---
---
Support Steve Ahlquist!
Gourmet Heaven in Providence accused of wage theft

,